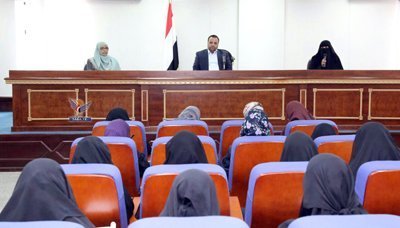 President Saleh Al-Sammad meets with a number of Yemen's female leaders
Yamanyoon
Saleh Al-Sammad, head of the Supreme Political Council, met in Sana'a with a number of women leaders. 
During the meeting, which was attended by Minister of State Radia Raoh and member of the Supreme Political Council, Halima Jahaf, the President welcomed the attendance of women leaders and said that "this meeting is considered very important in light of these exceptional and sensitive circumstances".
They discussed the situation in the country as a result of the ongoing Saudi-led war and the daily crimes committed against the Yemeni people in various governorates amid an international silence and the imposition of a strangling blockade.
The meeting reviewed the efforts of the women' roles during the current phase in confronting the Saudi-led coalition and plots aimed at undermining the unity of the internal front and the stability and steadfastness of the Yemeni people.
In addition, President al-Sammad praised the national role of women leaders in strengthening the home front and working for its protection by supplying the battlefronts and working on different aspects such as the media department.
He pointed out that the unfortunate events in the capital Sana'a come within the series of plots schemed by the Saudi-led coalition that target the internal front and political stability.
Moreover, the President of the Supreme Political Council stressed the importance of women and men playing an active role in establishing Yemeni political life, independent of any foreign influence.
He noted to the necessity of strengthening efforts and integration against the countries of the coalition and work to mobilize efforts to innervate the battlefronts against Saudi Arabia and its allies.
"Women should remain incubative for all, the mother for all Yemenis, who are the guarantors of this society, its cohesion, and stability," he said, stressing that the women's role will be present at all phases and that we will do all we can to take care of these rights."