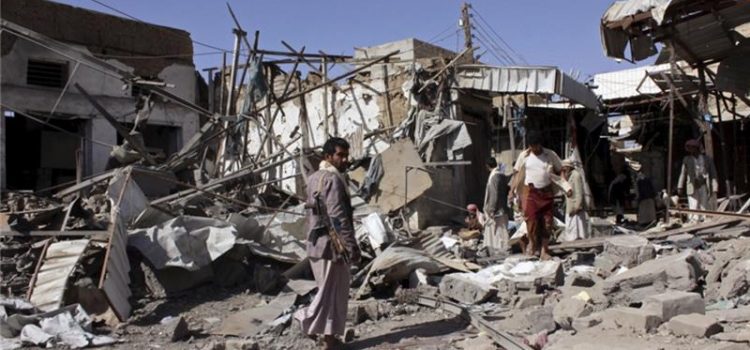 More Humanitarian Breaches by Saudi-led coalition on April 9th in Yemen: Report
Yamanyoon
The poorest country in the Middle East, Yemen, has been constantly bombed by the region's richest country Saudi Arabia for nearly three years since the Kingdom first initiated its military campaign on March 26 of 2015.
The daily bombardment led to the worst humanitarian catastrophe in the world as well as an unprecedented outbreak of diseases such as cholera.
According to local Yemeni reports, the Saudi regime and its allies have included hospitals, schools, homes, factories, local markets, universities, bridges, farms and roads in their military targets.
The Saudi-led coalition, backed by the US and UK, has also been imposing an air, sea and land siege on the country, preventing the entry of essential life requirements like medical supplies. Moreover, the siege has consequently led to millions in need of humanitarian aid.
Despite the horrific results of the Saudi war on Yemen, the Kingdom continues to take advantage of the international silence and retains its position although it has achieved no goals it has earlier announced.
In Saada, 3 citizens were killed, including one child, while another was wounded after a raid targeted the area of Burkan based in Razih Border District.
Moreover, an elderly woman, a girl lost their lives while another woman sustained injuries in a rocket and a Saudi artillery attack on various areas in the border district of Razih.
In the same context, two civilians fell as killed victims while an additional five are now wounded in Saada as a result of two air raids that hit a region close to Al-Tawheed School for young girls.
Moreover, the Saudi-led coalition waged three airstrikes on Al-Hajla region in Razih Border District, a raid on Maran region in Haydan District, while different regions of Razih and Jumab bin Fadhl region in Haydan District were subjected to Saudi missile and artillery assaults.
Heading to central Yemen, particularly Taiz Province, Saudi American airstrikes on Al-Mahmoul region in Damna District led to the deaths of at least 15 and the injury of another five.
A Saudi-led war began against Yemen on March 26 of 2015, in an attempt to reinstall a Saudi-friendly president, Hadi. Hadi was ousted by the Ansarullah revolutionaries, who enjoy wide public support, and that is when they took control over the country's affairs with an aim of eliminating foreign intervention or influence over Yemen.