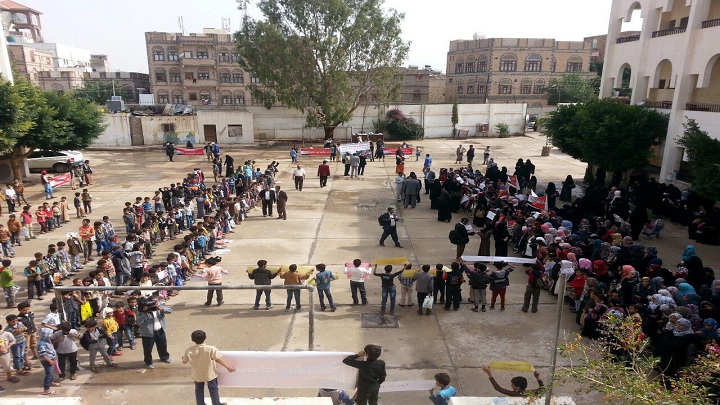 Many Events in the Capital Sana'a, Other Regions, to Condemn the Saudi Crime Against the Children of Dahyan
Yamanyoon
Several events were organized on Sunday, where student many other people attended in the capital Sana'a and a number of provinces. All of the events condemned the crime of the Saudi-American aggression against a school bus carrying children in Dahyan in Saada, northern Yemen.
In the capital, Sana'a, students of various schools in the capital Sana'a a protest to condemn the crime of aggression against the children of Saada and all the previous crimes committed by the Saudi aggression against children in Yemen.
The students participating in the event lifted signs and slogans condemning the massacre of the terrible aggression that targeted a school bus in a busy market within the city of Dahyan, Saada, which killed dozens and wounded many others, most of them were children under the age of 13.
The students within summer camps within the capital of Sana'a condemned the continuing crimes of the American-Saudi aggression against Yemen's children, women and elderly in a war of genocide waged by the US and its allies in the region against the Yemeni people for more than 3 and a half years in a row under international silence.
A statement issued by the protest, crimes of aggression will not discourage students from continuing education.
The staff, directors and teachers of the Education Office in a certain district within the capital met with a number of the students within the district to begin a demonstration in the school of Socotra, to denounce the crime, stressing in a statement that these brutal crimes will only increase Yemenis hardness and strength to defeat invaders and occupiers.
On Sunday, academics, administrators, and students of the University of Dhamar staged a protest against the crimes of the American-Saudi aggression and the targeting of the Yemeni people, the most recent of which was the horrific crime against students in the governorate of Saada governorate.
During the event, which was attended by the President of the University of Dhamar, Dr. Taleb al- Nahari, in which signs were raised to reject and condemn all crimes committed by the Saudi-American aggression against the Yemenis in a deliberate targeting of civilians, despite all international laws.
In addition, the cultural women's committee of Ansarullah carried out in the village of al-Washil in Anas district and the village of al-Malah in al-Hada'a district, Dhamar governorate, a demonstration to condemn the heinous crime committed by the air force against the children of Dahyan city, which killed 51 and injured 79 others, mostly children.
The children of the district of Mezhar within Rima province organized a protest to denounce the crimes of aggression, stressing that these crimes committed by the Saudi coalition with its aircraft and through its tools and mercenaries will not go unpunished and the perpetrators will be held accountable, calling all the tribes of Rima to move the fronts to revenge to all the crimes that have been committed by the Saudi-led aggression.