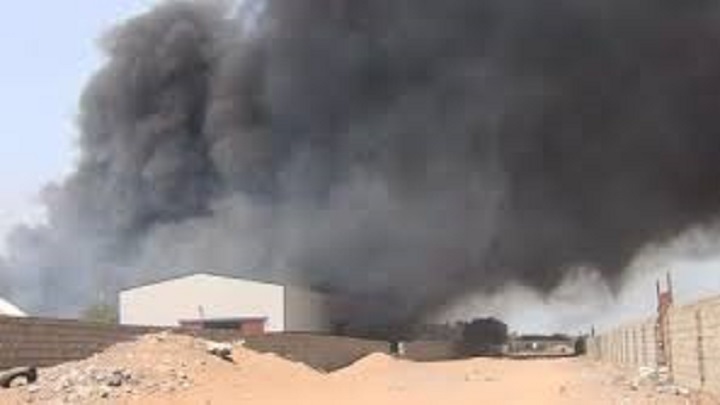 Saudi-led coalition targets World Food Organization's warehouse amid Yemen's humanitarian catastrophe
Yamanyoon
The Saudi-led coalition and its paid-militias on Friday evening targeted food and relief stores belonging to international organizations in the western province of Hodeidah.
Security sources pointed out that the UAE paid-militias targeted by intensive artillery shelling a warehouse of the World Food Organization, which led to the eruption of a huge fire in a warehouse containing quantities of food, near the silos of the Red Sea in the area Kilo 16 in Hali district.
In this regard, the head of the Supreme Revolutionary Committee, Mohamed Ali al-Houthi, said that the targeting of the World Food Organization stores confirms the start of the Saudi-led coalition in the implementation of a plan that makes the food stores and residential neighborhoods legitimate targets for its operations.
Al-Houthi said in a tweet on his Twitter account that international tolerance with the countries of the coalition in Yemen encouraged the coalition, supported by the United States and Britain, to continue to commit more crimes deliberately.
The Ministry of Public Health and Population warned of the aims of the Saudi-led coalition to target UNICEF stores and the World Food Organization, as well as the silos containing grain, wheat, food and medicine in Hodeidah.
The Ministry of Health called on all organizations and the international community to take action in order to stop the Saudi-led coalition and expose its claims aimed at destroying everything in Yemen and starving the Yemeni people by various means.
On Thursday, Saudi and UAE media reported false news of weapons stores present inside the hangars and warehouses of UNICEF and WFP in the province of Hodeidah.
Clarification: the picture used is of food warehouses affiliated with the World Food Organization that were targeted by the coalition last year.