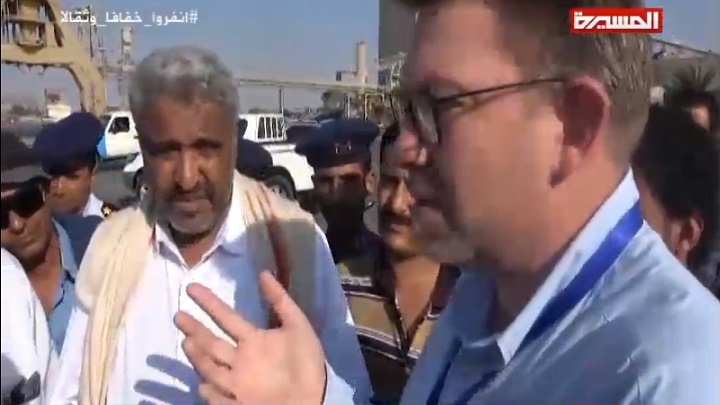 Governor of Hodeidah Meets Un-Led Team After Their Arrival to Yemen's West Coast
Yamanyoon
The Chargé d'affaires of the province of Hodeidah Mohamed Ayash Kahim met today with a UN advance team headed by the Director of Logistics Support at the Office of UN Envoy Martin Griffith André Bremello.
The meeting, which was attended by the Undersecretary of the Governorate Ali Qashr and Majdi al-Hassani, discussed the various arrangements for the visit of the UN team to the province, which is responsible for the implementation of the Swedish consultations.
In the meeting, the Chargé d'Affaires welcomed the team and expressed the readiness of the local authorities to facilitate the tasks for the UN team in the governorate.
He stressed on the commitment of what was agreed in the Stockholm consultations in Sweden, and start working to implement it in reality, urging the other side of the party to be pressured in order to obey what was agreed upon.
The head of the UN-led team commended the reception and the keenness of the local authority to provide facilities for the team, stressing that the United Nations and its Special Envoy to Yemen will do the same and also put the results of Sweden's consultations into action.
In addition, he pointed to the need for all parties to abide by what was agreed upon in order to stop the war and lift the human suffering experienced by the Yemeni people and alleviate the suffering of citizens.
The meeting was attended by Head of the Coast Guard Department, Major General Abdul Razzaq Al Moayad and Vice President of the Red Sea Ports Corporation Yahia Sharafuddin.