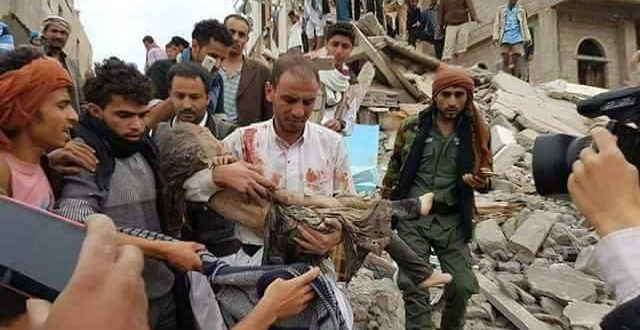 Made In Britain, Tested On Yemenis: The Reality Of Working For The Bombmakers
Yamanyoon
Tucking into steak and chips, the 25-year-old talks of moving in with his girlfriend, his good pay at the nearby BAE factory – £40,000, almost twice the local average – and the security it brings.
And then he thinks of the people those planes will be sent to kill.
"You see the children in Yemen starving on the 10 o'clock news," he tells Middle East Eye. "But you try to not pay attention and just get on with it."
His friend, Harry, interjects: "It's really weird and there is no way to describe it because you are in essence building a weapon of mass destruction."
So why don't they quit? "Good pay and job security," Jack responds, taking another sip of his beer. "If the military contracts go, 7,000 people go with them."
Jack is like thousands of others who work at the BAE Systems factory in nearby Samlesbury, outside Preston in Lancashire, making parts that will be assembled in nearby Warton to create Typhoons, the most advanced jet fighters operated by the Saudis over Yemen.
There, the Saudis have contributed to a civil war with the most terrible violence: bombing civilians, blowing up hospitals and imposing a siege that has condemned millions of Yemenis to slow starvation and poverty.
And Britain, in its wisdom, has sold the Saudis the hardware to do it. Since the war began in 2015, the UK has approved arms sales to Riyadh worth more than $3.3bn. Many of those weapons have come from BAE factories like Samlesbury, built by workers like Jack.
This prompted anti-arms trade campaigners to launch a judicial review in February to stop arms exports to the Saudi government until it stops committing human rights atrocities in Yemen. The decision on that review is due in the coming months.
All the while, BAE continues to expand its operations in the north-west of England, and the contracts keep coming. It is building a solar farm the size of nine football fields, creating hundreds of new apprenticeships, and is already Preston's largest employer with 9,000 staff. Under the £40bn al-Salam deal, signed in 2007 to a 25,000-strong celebration in Preston, BAE has delivered 68 of 72 Typhoons ordered, and another 48 may soon be agreed.
And in the surrounding villages, where the quiet life is punctuated by the sonic booms of jets and the rumble of lorries on narrow roads, the business is welcomed, even venerated. BAE is woven into the fabric of a local life, where generations have manned BAE's machine rooms.
There is pride in what they do. "Lancashire has a strong history of building fighter jets, and we are proud to be building them," said Mike Harris, who has worked as an electrical fitter in Samlesbury. "We produce the best in the world."
"We can't build washing machines because we have a history of building fighter planes," Harris said. "That's what we do and want to carry on doing."
And a block on that expertise would be devastating.
Audrey Charnley sits in the old church opposite BAE's Warton factory, the main assembly site for Typhoon jets, and speaks of the "problem" for locals if it was to close or lose business due amid efforts of anti-war activists.
Many villagers like Audrey have family who has worked there. She doesn't like the "idea" of Warton building fighter jets – "but somebody would be building the jets if Warton wasn't".
As to the war in Yemen, "we want peace, just like the peace we feel in this church", she says.
The same thought is echoed across the way at the local village hall, which Lynn Shuttleworth helps run. "If they didn't do it here they would do it somewhere else," she says, before commenting on a more pressing local issue: "Does cause a lot of traffic I must admit."
And at the Clifton Arms, next to Warton's factory, Taylor James pulls pints for the workers emerging from their shifts. He knows that victory for the judicial review will hit him and his family's pub hard.
He's never really heard of Yemen, or its current catastrophe, and neither – he says – have many people in the area.
"Because it's not personally affecting me, I don't really get involved or have an interest in what the planes are used for."
Source: websites