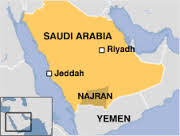 Yemeni Missile Force Pounds a Saudi Site
Najran | October 6 | Yamanyoon
The missile force of the Yemeni army and popular committees targeted, today Thursday, the surveillance of Saudi Al Sudaiss military site and another site recently under Saudi control by several Katyusha missiles in Najran.
The Yemeni missile force launched several Katyusha missiles targeting Sudaiss' surveillance and another site behind Al Sudaiss site, achieving direct hits, military source confirms.
Earlier today, the Yemeni artillery waged shells targeting the Saudi military site of Al Ash in Najran.