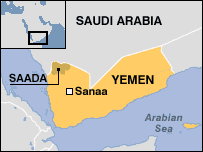 Another Child Wounded by Cluster Bombs in Saada
Saada | November 26 | Yamanyoon
A child has been reported to be injured today by the explosion of a cluster bomb, a remnant of the US-backed Saudi coalition's dropped bombs on Bani Sad region, Dahir district, Saada governorate.
The international forbidden cluster bombs had also caused the injury of two children on the 16th of this November in Al Samik region, Razih district, Saada.
In the same context, fighter jets of the US-backed Saudi coalition have been dropping thousands of cluster bombs and explosive material on various Yemeni governorates, especially the governorate of Saada.
People of Saada have always been suffering from Saudi American air raids targeting them as well as their farms, main roads and markets with the usage of prohibited explosive material, leading to the death and injury of many civilians.
 Cluster bombs mostly infected and affected the innocent children in targeted regions.