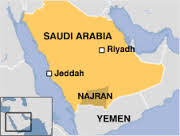 Katyusha Missiles Bombard Eastern Saqam in Najran
Najran / December 11 / Yamanyoon
The missile force of the Yemeni army and popular committees has launched several Katyusha missiles on eastern Saqam. The surveillance of Saudi military site of Sudaiss have also been aimed at using mortar shells.
The Yemeni missiles and shells successfully hit their targets with high accuracy, military source confirmed.
These military operations function as a response to the constant war crimes committed by the US-backed Saudi coalition against Yemeni civilians since March 26 of 2015.