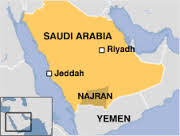 Four Saudi Soldiers Killed in Najran
Najran | December 12 | Yamanyoon
About four Saudi soldiers have been killed today in a sniping operation carried out by the Yemeni army and popular committees in Najran.
Two of the Saudi soldiers were killed behind Fawaz military site, while the two others were shot east of Shurfah in Najran, military source confirmed.
Since the beginning of December, at least 20 Saudi soldiers have been reported to be killed by the units of Yemeni snipe forces at the Yemeni-Saudi border.
These military operations function as a response to the constant war crimes committed by the US-backed Saudi coalition against Yemeni civilians since March 26 of 2015.