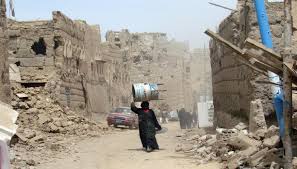 Aggression Targeting Gathering of Women on a Water Well in Saada
December 21|Yamanyoon
Fighter jets of Saudi American aggression targeting today morning a gathering of women on the well Water in directorate of Haydan, Saada province.
A military source said , the Saudi American aggression targeted a gathering of women at the well water on directorate of Haydan without any injuries, while the bombing make a state of extreme fear among women.
The warplanes of Saudi American aggression launched on Monday, more than 40 raid targeting different areas of Saada province. Including several raids on Al Gomima village in the Maran resulted death of five girls and two women.