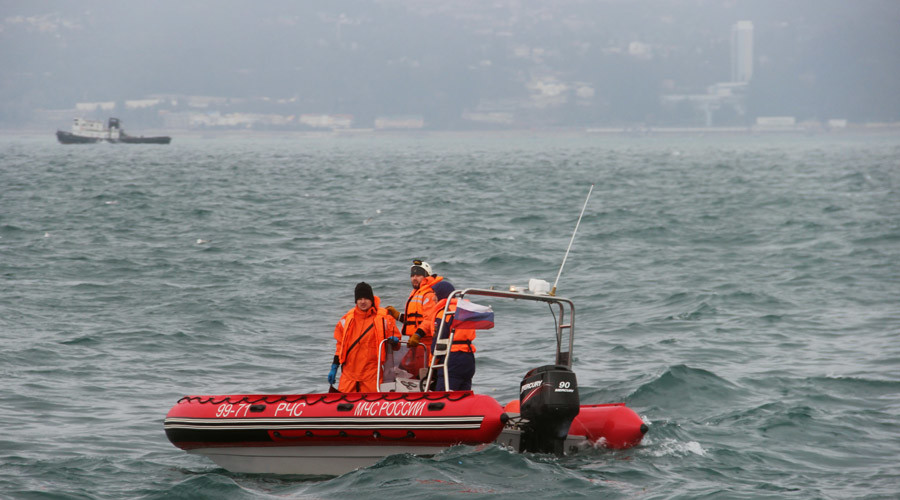 Parts of Russian Plane Body Detected in Black Sea
December 26 / Yamanyoon 
Russian rescuers found today the first parts of the Syria-bound military plane that plunged into the Black Sea, as officials said they do not suspect terrorism as the reason for the crash that killed 92 people on board.
The Tu-154 jet, whose passengers included more than 60 members of the internationally-renowned Red Army Choir, was heading to Moscow's military base in Syria when it went down off the resort city of Sochi shortly after take-off Sunday.
Investigators have yet to confirm the cause of the crash, but officials said that an act of terror was not being considered as a possible explanation, despite the plane and its black boxes still being underwater.
A spokeswoman for the Sochi-based search and rescue branch of the emergency ministry confirmed that parts of the plane had been found underwater.
The Russian military added that divers had retrieved "two elements of the plane's control mechanism."
Russia's federal security service stated it is looking into four suspected causes of the crash, which do not include terrorism.
"No signs or facts pointing to a possible act of terror have been received at this time," Russia's Federal Security Service said in a statement carried by national news agencies.
The investigation is focusing on a pilot error, a technical fault, bad fuel and a foreign object in the engine as four main scenarios, it added.
President Vladimir Putin ordered a national day of mourning on Monday, with state television flashing black and white pictures of the victims across the screen while entertainment programs were cancelled.
Source: AFP