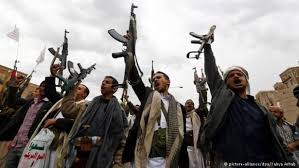 The United States' bloody alliance with Saudi Arabia
January 8 | Yamanyoon
AMONG THE muddled Middle East policies the Trump administration will inherit from President Obama is U.S. involvement in Saudi Arabia's bloody and futile intervention in Yemen. Pushed by its ambitious, 31-year-old deputy crown prince, the kingdom plunged into war in 2015 and since then has carried out some of the most brutal attacks in a war-ravaged Middle East with substantial American support. Human rights groups have accused the Saudis of bombing hospitals, schools and other civilian sites and of employing cluster munitions, all in violation of international law.
In response, the Obama administration has withheld some support, but not enough to stop the carnage — a policy that manages to anger all sides while accomplishing next to nothing.
The continued U.S. support includes refueling Saudi aircraft, which have continued to pound Yemeni cities since the administration announced on Dec. 13 that it had decided to block a $390 million sale of guided-munition kits to the Saudi military by Raytheon. The sanction, which was coupled with a reduction of intelligence sharing, could conceivably lead to more civilian casualties, since the kits and intelligence are used to make bombing more accurate. The sale also represents a puny part of the $58 billion in weapons the United States has sold to Saudi Arabia since Mr. Obama took office, including $20 billion in 2015 alone.
Evidently, the White House felt compelled to respond, however ineffectually, to charges that the United States is complicit in Saudi war crimes. Human Rights Watch says it has documented 23 unlawful airstrikes in which U.S. munitions were used, many of which killed civilians, including children. According to the United Nations, at least 4,125 civilians were killed and 7,207 wounded between March 2015 and October 2016, mostly in airstrikes by the Saudis and their Persian Gulf allies.
Source |Washingtonpost