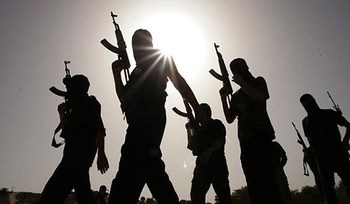 Riyadh recruits 350 Comorian militias for Yemen war
February 15 | Yamanyoon
a ccording to the sources, Riyadh pays 1,000 euros to the Comorian militias every month to fight for the country in Yemen.
The sources said using the Comorian forces is part of the Israeli-US plan to recruit military men from different African countries, including Senegal, Djibouti and Eritrea, to fight against the Yemeni army and Ansarullah forces.
Sources said in September that Riyadh has transferred nearly 5,000 militants from a number of terrorist groups from Aden port to Eritrea's Assab port to go under military trainings and then be sent to the Saudi provinces bordering Yemen.
"The terrorists, some of whom are from the Al-Qaeda, will be dispatched to Najran, Jizzan and Asir provinces to fight against the Yemeni army and popular forces and prevent their further advances in Southern Saudi Arabia," the sources stated.
They added that the Yemeni forces' advances deep inside the Saudi territories have frightened the Saudi officials more than the ballistic missiles fired from Yemen.
Saudi Arabia has been striking Yemen since March 2015 to restore power to fugitive president Mansour Hadi, a close ally of Riyadh. The Saudi-led aggression has so far killed at least 13,100 Yemenis, including hundreds of women and children.
Source | Websites