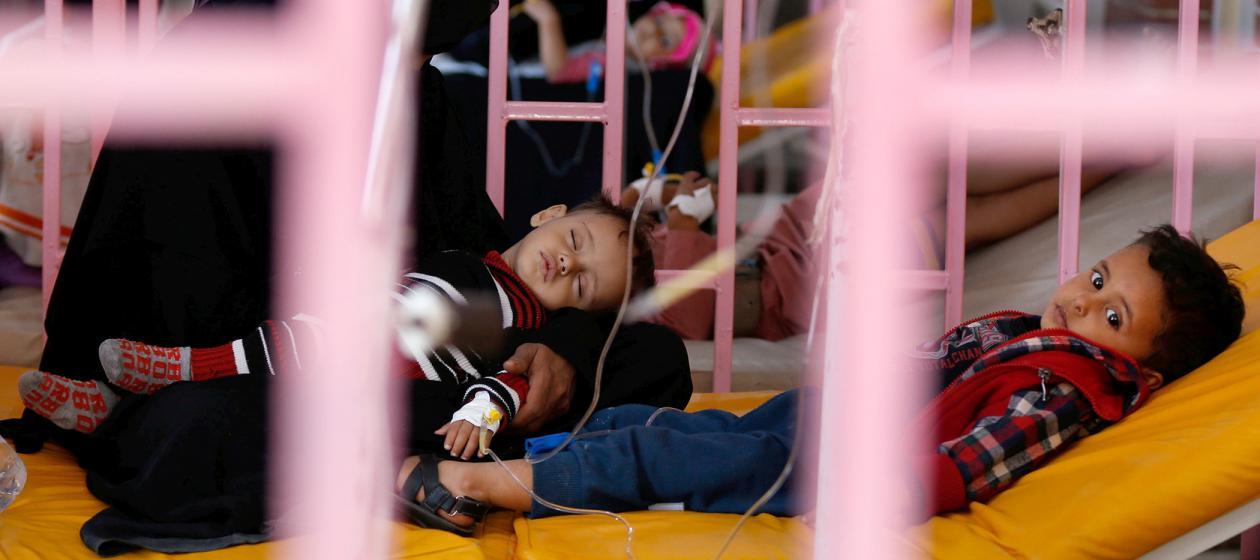 Yamanyoon- 9 Dec 2017
What's happening?
Yemen is in the midst of a massive humanitarian crisis. It was already the poorest country in the Middle East before the Saudi war tore the nation into two dysfunctional halves, and two years of massive bombing by a Saudi-led Arab coalition have destroyed hospitals, schools, factories, and mosques and reduced parts of many cities to rubble. The destruction of water treatment plants and sewage systems has caused the worst cholera outbreak in modern history, with nearly a million people infected and thousands dead. With Yemen importing 90 percent of its food, most people there were malnourished even before the Saudis imposed a blockade last month in response to Yemeni army missile fired at the Saudi capital, Riyadh. Now both food and fuel are unaffordable, clean water is scarce, and the hospitals that remain open are full of skeletal children and sick adults. If the blockade isn't fully lifted soon, says U.N. Under-Secretary-General for Humanitarian Affairs Mark Lowcock, Yemen will face "the largest famine the world has seen for many decades, with millions of victims."
Who is involved?
The Saudis' coalition of Sunni states includes the UAE, Egypt, Morocco, Jordan, Sudan, Kuwait, Qatar, and Bahrain. They are assisted by southern Yemeni militias, some of the Yemeni army based in Aden, and Islamist extremist groups.
What is the U.S.'s role?
The U.S. is the biggest supplier of weapons to Saudi Arabia, with sales of planes, tanks, and bombs surging under President Obama and continuing under President Trump. At the beginning of the Yemeni conflict, in 2015 and 2016, U.S. forces directly assisted the Saudi-led coalition in targeting the Yemeni people. The Pentagon says it no longer provides that aid, but since Trump took office it has doubled its refueling assistance, operating "gas stations in the sky" that allow Saudi planes to refuel in flight for their bombing sorties. In November, in a rare rebuke, Congress passed a nonbinding resolution saying that U.S. military assistance to Saudi Arabia for its war in Yemen has not been authorized by Congress and is not included under use-of-force laws passed in 2001 and 2002. It said the Pentagon must restrict its activities to combating Yemen's branch of al Qaeda. Al Qaeda and other terrorist groups in Yemen are growing as they recruit angry, desperate Yemenis.
Is there hope of a truce?
Not much. President Trump enthusiastically praised the Saudis' "strong action" against Yemeni people; on his visit to Riyadh in May, he offered them another $110 billion in weapons. The U.S. and U.K. — which also sold the Saudis more than $1 billion worth of arms this year — have blocked significant international intervention to halt the war, and while the U.N. has held three rounds of peace talks, they went nowhere. Humanitarian groups are now begging Saudi Arabia to lift the blockade, and on Wednesday President Trump directed U.S. officials "to call the leadership of the Kingdom of Saudi Arabia to request that they completely allow food, fuel, water, and medicine to reach the Yemeni people who desperately need it." The unusual public order urged that "this must be done for humanitarian reasons immediately." Others maintain that it is already too late for many Yemenis. Paolo Cernuschi, of the International Rescue Committee, said: "We are far beyond the need to raise an alarm. What is happening now is a complete disgrace."
Source: The Week magazine.