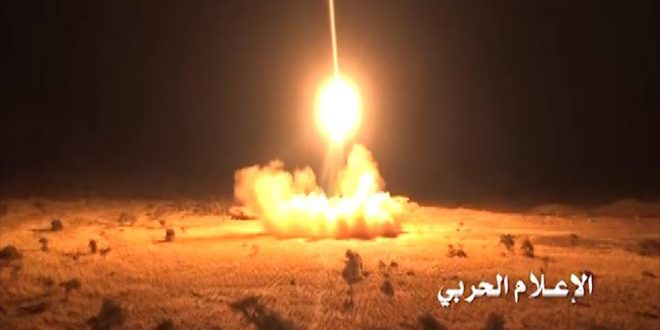 Yemeni Military Media Distributed Scenes of Targeting Jeddah's Airport
Exclusive | October 28 | Yamanyoon
The Yemeni military media distributed scenes of the Yemeni ballistic missile "Burkan 1", which is locally developed, targeting King Abdul Aziz Airport in Jeddah.
Scenes show the moment of the Yemeni army and popular committees launching Burkan 1 ballistic missile aiming at Jeddah's airport.
The Yemeni missile force has declared earlier today the targeting of the Saudi airport in Jeddah in a striking development of Yemeni response to war crimes committed by the US-backed Saudi coalition and the land, air and sea blockade on Yemenis.
The official spokesman of the Armed Forces, Brigadier General Sharaf Ghalib Luqman, confirmed that the objectives of the Yemeni missile force are coordinated with military foundations guaranteeing the %100 high accuracy of pounding the target and causing the largest possible loss for the enemy's military forces.