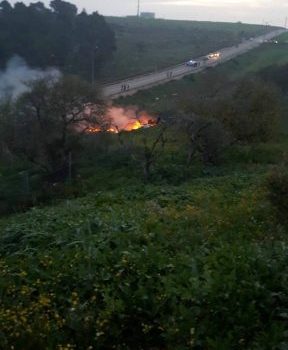 'Era of hit and run is over': Iranian official on Israeli strikes in Syria
Yamanyoon
M.A.
The Iranian security chief has commented on the Israeli airstrikes in Syria on February 10, which triggered retaliatory fire from Syrian air defense.
"The Syrian nation proved this time that it will respond to any act of aggression, as the era of hit and run is over," Ali Shamkhani, the secretary of Iran's Supreme National Security Council told reporters in Tehran on Sunday, speaking on the sidelines of rallies marking the victory anniversary of the Islamic Revolution in Iran.
 The official went on by responding to Israel's Defense Forces' report of attacks against "additional Iranian targets in Syria," referring to an alleged Iranian drone in the area.
"The claim by the Zionists (that they have carried out sorties) to damage Iranian bases in Syria is a lie," Ali Shamkhani stated, adding that Iran had an "advisory, not a military presence" in Syria, the security official reiterated, denying Israeli allegations that its warplanes had scrambled in reaction to an Iranian drone.
Shamkhani explained that no forces would fly military jets to hit a drone.
Israel's Attack in Syria
The statement follows the Israeli attack on several military targets in Syria on February 10. As Jonathan Conricus, the IDF's spokesman, specified, the strike was made in response to the downing of an Israeli Apache attack helicopter that intercepted an Iranian drone infiltrating the disputed area of the Golan Heights.
Responding to the strike, Syrian air defense systems had reportedly opened fire on Israel.
Source: Sputnik