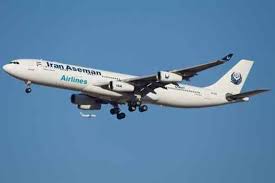 Iran Teams Find Wreckage of Plane in Zagros Mountains
Yamanyoon
M.A.
Iranian rescue teams found the wreckage on Tuesday of a plane that went missing in the Zagros mountains two days earlier, a Revolutionary Guards spokesman told state media.
"The Revolutionary Guards' helicopters this morning found the wreckage of the plane on Dena mountain," spokesman Ramezan Sharif told state broadcaster IRIB.
"Since yesterday the Revolutionary Guards' drones started carefully identifying the geographical area where the plane had probably crashed and this morning two helicopters of the air forces were dispatched to the location," he added.
Aseman Airlines flight EP3704 disappeared on Sunday morning in the Zagros range with 66 people on board, around 45 minutes after taking off from Tehran.
After two days of heavy snow and fog, the weather finally cleared on Tuesday morning, giving helicopter teams much better visibility.
Source: AFP