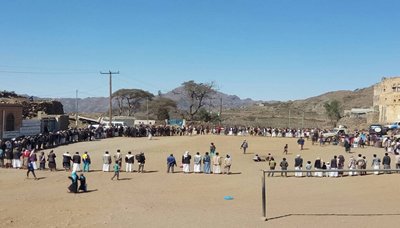 A Protest to Denounce the Blockade Made by the Saudi Aggression on Yemen
Yamanyoon
Organized by the district of Hafash,province of Mahwit, a protest to denounce the continuation of the US-Saudi aggression and its blockade on Yemen.
The participants stressed the importance of being united and supportive to relief one another in order to withdraw the Saudis and their allies from the Yemeni land.
During the protest, a speech was given to denounce the unbridled crimes that are still going on and have been going for nearly three years. Nevertheless, these crimes are faced by an international silence nationwide.
Moreover, other speeches praised the victories achieved by the army and the popular committees in different fronts.