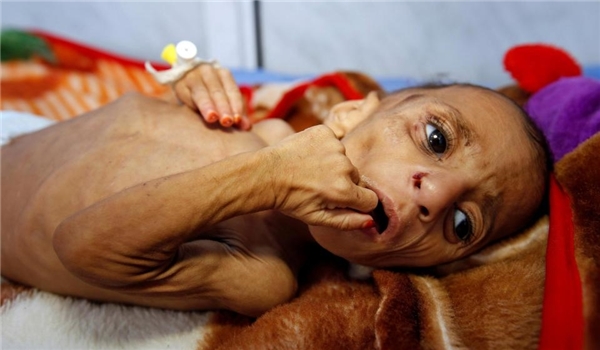 Iran Slammed Us, Britain, France for Massacre of Yemeni Women, Children
Yamanyoon
Iranian Foreign Ministry Spokesman Bahram Qassemi criticized the US, Britain and France for escalating war in Yemen through their arms shipments to the US-Saudi-led coalition, expressing that the three UN Security Council member states are the ones held responsible for the pains, sufferings and massacre of women and children in Yemen.
Qassemi slammed the US and Britain for their unconstructive role in the UN Security Council in the past three years and their attempts to legitimize the aggressors in the Yemen war, stressing the need for ending the Saudi aggression against the impoverished Arab country.
"All those who play a destructive role by selling modern weapons, enlarging the arsenals of aggressive countries and intensifying the crisis and instability in the region have the responsibility to defend and protect the defenseless Yemeni women and children who are facing a humanitarian crisis that has been brought about by devastating war and sanctions imposed on the country," he underlined.
Qassemi also spoke about the US, Britain and France's failure in their effort at the UN's Monday meeting to condemn Iran for alleged supply of missiles to Yemen, and said they should account for the crimes committed against the oppressed Yemeni people as main supporters of the aggressors and suppliers of deadly arms to them.
His remarks came after Russia vetoed a UNSC resolution based on a UN report denouncing Iran for what it called as violating an arms embargo by sending weapons to Yemen.
Backed by the United States and France, the British-drafted resolution was approved by 11 votes in favor on Monday, before Russia used its veto and other member states abstained from voting.
The US had repeatedly called for the imposition of a renewed embargo on Iran, claiming it was sending Iranian missiles to Yemen.
It also claimed that these missiles were used to launch an attack on neighboring Saudi Arabia – which along with several Sunni Arab countries – has launched a war against its poor neighbor since 2015.
In relevant remarks earlier today, Iranian Ambassador to London Hamid Baeidinejad underlined that Washington experienced a complete failure in the aforementioned meeting which was due to condemn Iran for the alleged supply of missiles to Yemen, adding that even the western states didn't fully support the US.
At least 15,700 people have been killed since the beginning of Saudi Arabia's military campaign against Yemen in 2015. Much of the country's infrastructure, including hospitals, schools and factories, has been completely destroyed due to the war.
The Saudi-led aggression has also triggered a deadly cholera epidemic across Yemen.
According to the World Health Organization's latest tally, the cholera outbreak has taken the lives of more than 2,167 people since the end of April 2017 and is suspected to have infected 841,906.