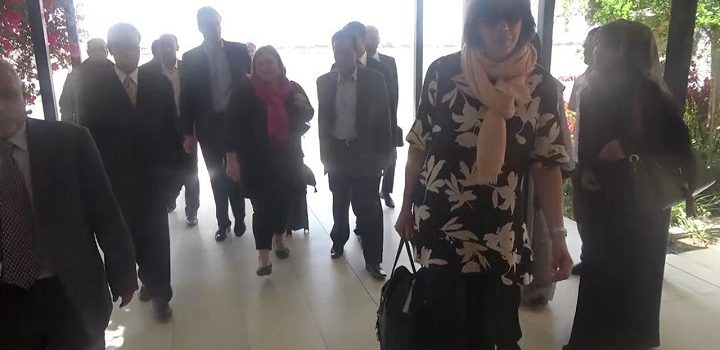 EU Delegates Arrive the Capital Sana'a, Foreign Ministry Welcomes
Yamanyoon
A deputation from the European Union arrived in the capital Sana'a of Yemen on Monday, among the arrivals were Maria Antonia Calvo, the Dutch ambassador to Yemen Maria van Doe, the French ambassador to Yemen Christian Tistot and Hans Peter, the envoy of the Swedish foreign minister.
The visitors landed in Sana'a International Airport and were welcomed by the Head of Europe Department at the Ministry of Foreign Affairs, Ambassador Faisal Amin Abu Ras
Head of the EU Delegation to Yemen María Antonia Calvo said that the delegation will discuss with the Yemeni officials the repercussions of the war and its various ramifications, beginning with the deteriorating humanitarian situation, calling for stopping the war on Yemen and lifting the siege on it
The European delegation is expected to discuss the political process and try to resume it with the Supreme Political Council and the National Salvation Government
The Yemeni Foreign Ministry, in turn, welcomed the visit of the head of the European Union mission and the ambassadors of a number of European countries to the capital of Sana'a, which is the first since the beginning of the war on 26th  March 2015.
Foreign Minister Hisham Sharaf welcomed Yemen's visit to the head of the EU mission to the country , Antonia Calvo Puerta, the Ambassador of the Kingdom of the Netherlands in Yemen Yerma van Doreen, the Ambassador of the French Republic Christian Tistop and the Special Envoy of the Minister of Foreign Affairs of the Kingdom of Sweden to Sana'a Hans Peter Svetmbai
Minister Sharaf pointed out that the situation in Yemen has become a priority on the agenda of the European Union and its countries, which seeks to reduce the humanitarian disaster created by the Saudi-led coalition since its inception in light of the continuous high rates of malnutrition of about 24 million people and the spread of epidemics such as cholera and diphtheria, As a result of the war, and the deterioration of economic and living conditions as a result of systematic practices and the suspension of salaries of public servants
He pointed out that the European Union and its countries are respected and appreciated by the political leadership and the Yemeni people for their rejection of the continuation of the war and the assertion on more than one occasion that there is no military solution to the current situation and that the solution in Yemen is a political solution.
The Foreign Minister appreciated the attitudes of a number of European countries as well as the European Parliament, which decided to stop selling arms to the countries of the coalition
He renewed the principled attitude of the Supreme Political Council and the National Salvation Government, calling for a just and honorable peace for the Yemeni people
He pointed out that the EU and its friendly countries in Yemen can play a contributing role and help in ending the war, stopping the military operations and lifting the comprehensive siege alongside the efforts of the United Nations and a number of friendly countries