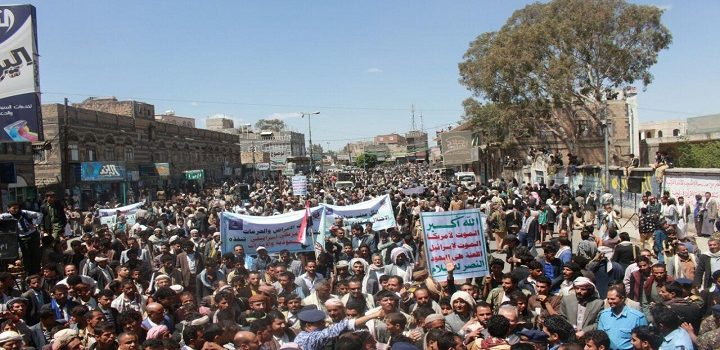 Thousands of Yemenis in Dhamar protest Saudi war crimes
Yamanyoon
The city of Dhamar witnessed on Tuesday an outraged popular march condemning the crimes of the Saudi-led coalition against the Yemeni people, the latest of which is the rape of a woman in the district of Al-Khokha in coastal Hodeidah Governorate, western Yemen.
The residents of Dhamar announced the general mobilization to avenge from the countries of the Saudi-led coalition and their paid-militias, who have caused the bloodshed of thousands of innocent Yemenis.
A statement issued by the march denounced the positions of the international community regarding the crimes committed by the Saudi-led coalition and its paid-militias against the Yemeni people, as well as their blatant attempts to diminish such crimes which target all Yemenis with no exceptions.
The participants stressed that such crimes, including the crime of a Sudanese mercenary raping a Yemeni woman, perpetrated by the US-backed Saudi regime will not pass without reckoning, adding that certain attempts took place to intimidate the family of the rape victim to obliterate the crime.
"All Yemenis must unite in the face of the forces of the Saudi-led coalition and stand up for the authenticity of the Yemeni man, who is rooted in the history books as a defender of dignity and sovereignty," the statement stressed.