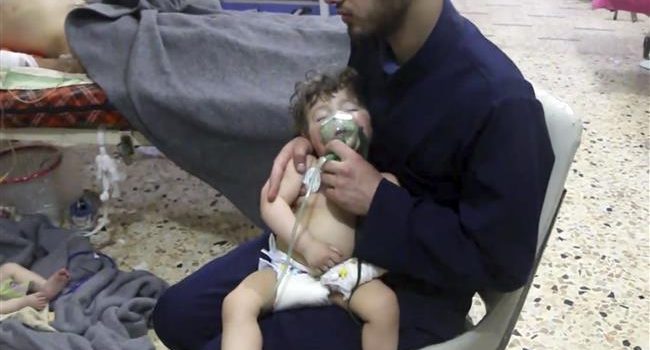 Kremlin: Assumptions on chemical attack in Syria 'dangerous, wrong'
Yamanyoon
The Kremlin has warned that jumping to any conclusions about a reported chemical attack near the Syrian capital of Damascus without confirmed information would be wrong and dangerous as there is no investigation underway into the alleged incident.
Russian officials had previously said that militants in Syria were plotting "provocations" with the use of chemical weapons, Kremlin spokesman Dmitry Peskov said on a conference call with reporters on Monday.
An alleged chemical attack on Saturday in the militant-held town of Douma in Eastern Ghouta reportedly left dozens dead.
Eastern Ghouta, which is home to nearly 400,000 people, fell to multiple militant groups in 2012, months after Syria plunged into crisis and has since served as a launch pad for fatal attacks against residents and infrastructure in Damascus.
Damascus, in a statement released late on Saturday, strongly rejected the allegation of using chemical munitions and said that the so-called Jaish al-Islam Takfiri terrorist group, which has dominant presence in Douma, was repeating the accusations "in order to accuse the Syrian Arab army, in a blatant attempt to hinder the Army's advance."
Russia's Foreign Ministry on Sunday lambasted as "bogus" reports of a chemical gas attack allegedly conducted by the Syrian government in Eastern Ghouta, warning that any military intervention based on such "invented and fabricated excuses" could lead to severe consequences.
Turkey concerned over attacks in Eastern Ghouta
In a telephone call with his Russian counterpart Vladimir Putin, Turkish President Recep Tayyip Erdogan on Monday expressed "concern" over recent attacks in Eastern Ghouta, a Turkish presidential source said.
"President Erdogan expressed concern about the attacks in Douma and Eastern Ghouta and emphasized the importance of preventing civilian deaths and working together to deliver humanitarian aid," the source added.
The US and France have vowed a "strong, joint response" to the alleged chemical attack, which came in the wake of the Syrian Army's push to drive out last remnants of terrorists from Douma.
PressTV