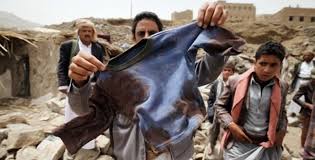 The Saudi-Led Coalition Horrible Crimes on (25-May-2018): Report
Yamanyoon
The Saudi-led aggression carried out on Friday various raids on several Yemeni governorates, leaving killed and wounded among civilians, in addition to material damage to public and private property.
In Saada province, 6 citizens were killed and 4 others injured by an aerial raid nomads tents in Al-Hajar area, district of Majz.
Moreover, Saudi bombardment by artillery shells and rocket fire targeted various areas in the districts of Razih and Ghamr, which led to the injury of a citizen.
It also launched four raids on Wadi al-abo-Jabara, 10 raids on Atafin in Kataf and 16 raids on houses and farms in different areas in the district of Baqem.
In Hodeida coastal province, two citizens were killed after a Saudi-led coalition aerial raids targeted the main road in Zabid, in addition to a raid that hit the area of Zoriba, destroying a bulldozer belonging to one of the farmers.
In the province of Taiz, a civilian was killed and another was injured after a raid targeted a civilian's home in al-Burh area, district of Maqbnah.
Heading to Hajjah governorate, the US Saudi-led coalition carried out 34 raids on the districts of Harad and Medi.
In al-Jawf province, the coalition military aircraft launched a raid on Al-Matoon district.
In the Saudi province of Najran, the coalition carried out seven raids on Talaa Rajjlah, in addition to a raid on al-Makhrok.