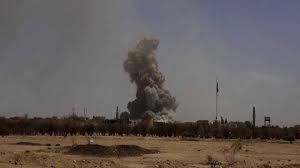 Two Yemenis Killed by Saudi Airstrikes in Saada
Yamanyoon
Two citizens were killed on Wednesday after raids by the American-Saudi coalition targeted al-Ammar area in Saada Governorate.
The coalition jets targeted the road to Saada-Sanaa in al-Ammar by three aerial raids, which resulted in the death of two citizens and burning a citizen's car, a source reported to Yamanyoon.
Moreover, it launched a raid on Shaaban in the border district of Razih.
The source added that the air force launched 10 aerial raids on citizens farms in the area of Al-Menqem in Drehmi district in Hodeidah governorate, and destroyed a home of a citizen by an airstrike in the area of Gammar.
In a preset time, a civilian was killed in a Saudi rocket-artillery attack on the border district of Munebah .