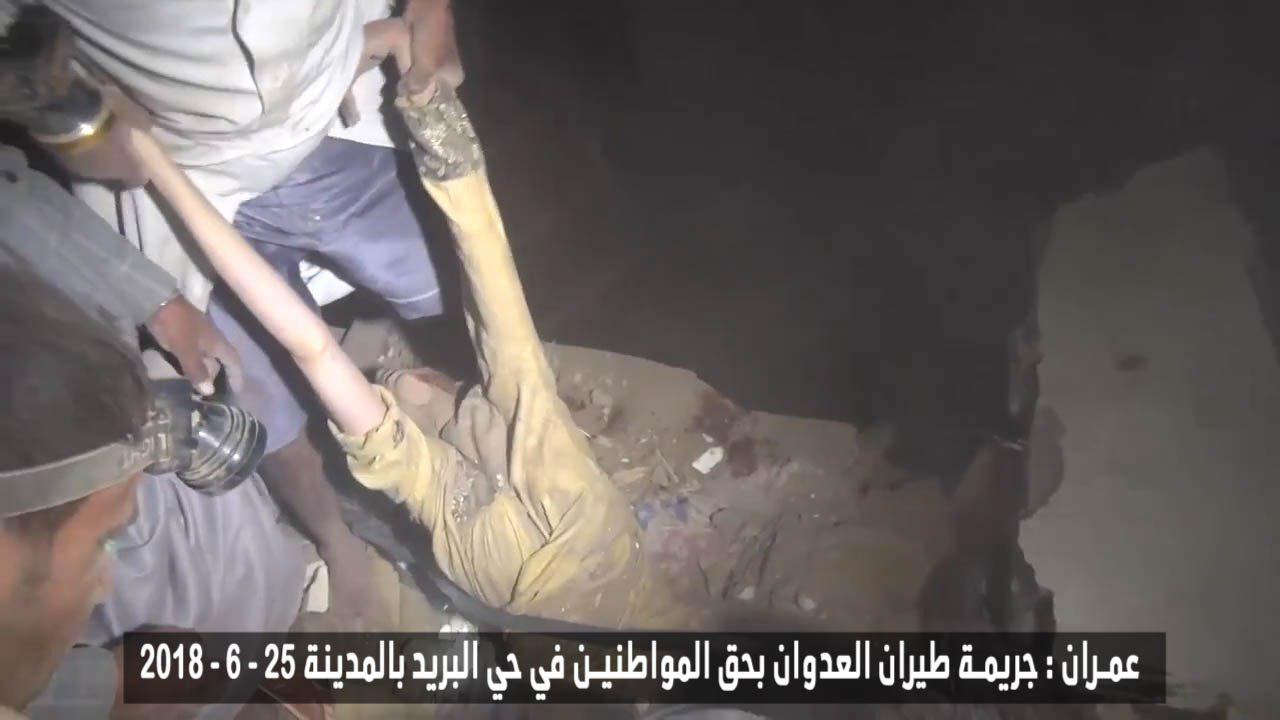 Report: Saudi-Led Coalition Crimes in Yemen (25-June-2018)
Yamanyoon
The Saudi-led coalition carried our on Monday various raids on various Yemeni provinces, leaving killed, wounded civilians and damage to public and private property.
In Amran governorate, 24 citizens were killed and injured, including 8 people from one family. The majority of the victims were children and women, as a result of airstrikes launched by the Saudi-led coalition on a neighborhood concentrated with innocents in the city of Amran, while a number of houses were destroyed and damaged during the Saudi crime.
In Amran province, Coalition warplanes carried out 5 raids on the security administration building and two at the headquarters building of Communications
In Saada governorate, the aggressive coalition launched three raids on the Al-Mahathar area of Suhara district and three raids on Al-Azghul area.
A number of five raids were carried out by the US-Saudi jets on al-Lawiya area in al-Darihami district, Hodeidah Governorate, and two raids on Al-Mazraq area in Hajjah governorate.
Moreover, the Saudi forces shot artillery and rocket shells at different areas within the border districts of Munebah and Razih.
More than 13 thousand Yemenis have been killed since the Saudi war campaign on Yemen in March 2015 due to Saudi criminal aerial raids and its artillery and rocket attack for over three years. The war has also led the country to be stated as the worst humanitarian crisis in the world, where more than %80 of the population requires immediate humanitarian assistance.
The Saudi war on  Yemen has also resulted in a Cholera and Diphtheria pandemics outbreak, where hundreds of oppressed Yemenis have been diagnosed with. A major number of people have died as a result of the diseases and others were lucky enough to get immediate help in hospitals.
The Saudi-led coalition claim that it started a war with Yemenis to reinforce power to exiled ex-president Abdrabbuh Mansur Hadi, who has been living in Saudi hotels for over three years and even forbidden to go back to the occupied coastal city, Aden by Saudi Arabia and the UAE.