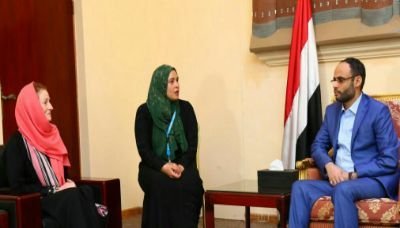 President hails UNICEF's humanitarian activities in Yemen
Yamanyoon
President of the Supreme Political Council, Mahdi al-Mashat, hailed on Thursday the role of UNICEF organization and its humanitarian activities in Yemen.
This took place at the meeting of the president in the capital Sana'a with UNICEF Executive Director Henrietta H. Fore, during which they discussed the organization's activities in alleviating the suffering of Yemeni people due to the Saudi-led war and air, sea and land blockade.
The president confirmed that the Saudi-led coalition is responsible for impeding humanitarian activities and relief works, and even obstructing the flow of medicines and medical supplies through the port of Hodeidah.
The president confirmed the willingness to provide all kinds of facilities for UNICEF to conduct its humanitarian programs in Yemen.
He urged the organization to broaden its activities in proportion to the current harsh conditions endured by the Yemeni people.
During the meeting, the UNICEF's official expressed her gratitude to the president al-Mashat for constantly offering assistance for the organization's efforts and activities.
She also discussed UNICEF projects and activities in Yemen in a number of sectors, including motherhood, childhood, health, water, education and others.