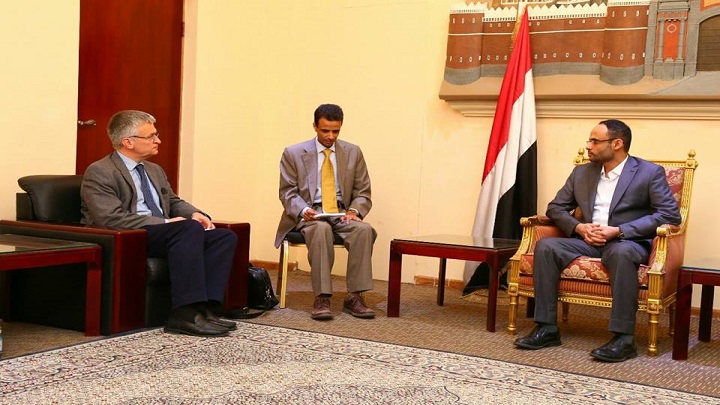 President Al-Mashat: That's Why the Us and Others Do Not Want the Saudi Coalition on Yemen to Stop
Yamanyoon
The president of Yemen, al-Mashat, confirmed on Saturday that there are countries, such as the US and many other Europe countries, who do not want the Saudi war on Yemen to end because of the benefits they're getting from selling all kind of military equipment and weapons to the Saudi aggression.
During his meeting with the Special Envoy of the Ministry of Foreign Affairs of the Kingdom of Sweden to Yemen and Libya, Ambassador Peter Simneby, he said that there are two parties affected by the cessation of the Saudi aggression on Yemen, one of them is an internal party who fully depends on the Saudi-led coalition and will not accept any peace decisions.
He added that "we have made many initiatives to oppose Saudi propaganda and lies by its media, one of which we accepted UN's solution about handing over the port of Hodeidah to the United Nations, and we have talked with the UN envoy, Martin Griffith, about it, hoping that his efforts will have an impact on ground."
In a related context, he explained, "we have proposed to the UN envoy several steps to rebuild confidence, including the opening of Sana'a international airport, lifting restrictions on the port of Hodeidah, the exchange of prisoners and a ceasefire from both sides and stop its aerial raids in exchange for stopping the ballistic missile attacks."
The President of the Supreme Political Council, al-Mashat stressed that if there is seriousness from the international parties for a solution, it will put pressure on the aggressive coalition on Yemen, where the president emphasized that the efforts of the UN envoy and other officials have given a one-sided solution, which was obviously given for the Saudi-led coalition.