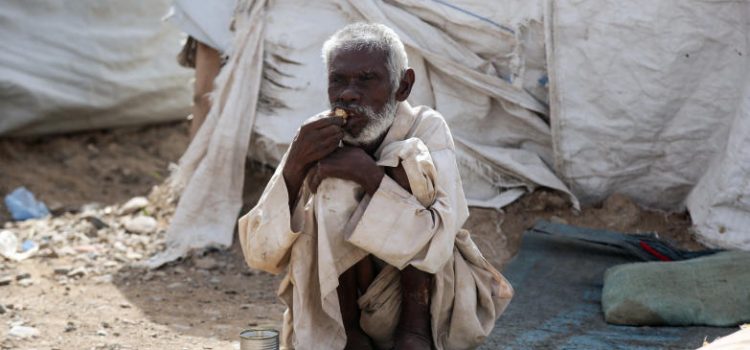 They Escaped Death and Now They Are Homeless and Starving (Yemen)
Yamanyoon
The people within the West Coast, specifically in Hodeidah, were forced to leave, where the a number of displaced people of the poor families and destitute, in West Coast, have suffered from malnutrition and deadly diseases due to the siege on the country, preventing the entry of medicines, loss of livelihoods in the Tehami coastline and stretching from Mukha to Kukah districts over a period of three years reached (25,000 families) up to 200,000 people have fled to the main cities of Hodeidah, Sana'a, Taiz , Aden and Hadramout, including rural areas and the directorates of the coast, where they are hosted by their relatives and friends amid extreme poverty.
Monitoring team recorded one of the poorest families in the city of Hodeidah and in one of the neighborhood there is a family hosts
five families where they are housed in a modest house, the number is 27 people, including children and women. They all eat one meal a day, which is hard provided by their host.
The team visited Haji Abdullah, who hosts them and documented their painful suffering story of children and women who lie in the ground and children play without clothes.
Maryam, whose age is in the 40s and a mother for four displaced children, narrated their story when they displaced under the aerial, mortar and bullets bombardment, she said "we went out and left everything in the house even our clothes.
We were afraid and we do not want to die. We do not want anything of you We want to go back to our house, just give us back to it, I can not live far from our home in Durahmi I ask you to return us to our house. I can not sleep For I am afraid of war, asking the team, are you going to return us back to our house? ", She was crying painfully.
Only in June 2018, the displaced families because of coalition led by Saudi Arabia, which targeted the villages of Drehemi, Manar, Nakhaila, Shujira, Taif and air strikes that hit the city of Hodeidah and intimidate the population and the dissemination of news and information, which led to the flow of hundreds of displaced daily to Sanaa reached more than 5000 families.
The number reaches 38 thousand people in addition to the presence of four displacement centers in the city of Hodeidah,
Hundreds of families who left their homes receive food and humanitarian relief from donor organizations, activists, associations and the local authority.