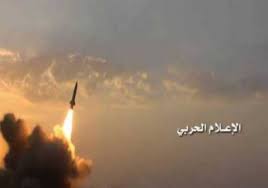 Breaking: Rocketry Force Shells Ammunition Stores of the Saudi-Led Aggression Forces in the West Coast of Yemen.
Yamanyoon
The rocketry force of the Yemeni army has launched today a short-range ballistic missile on ammunition supplies of the Saudi-led coalition forces in the west coast of Yemen, near al-Hodeidah.
The missile struck its target with high accuracy, resulting in huge exploding and losses among the coalition's arms stores, the source reported to Yamanyoon.
It worth mentioning that this short-range missile is still new and just entered the battlefield before a short period. The rocketry force of Yemen said it will reveal the classifications of the missile in the few upcoming days