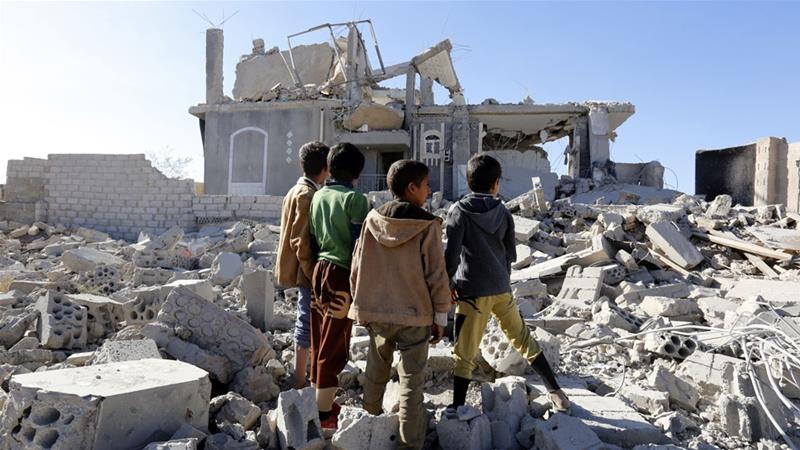 A Report Shows the Crimes of the Saudi Aggression in Yemen on July/22/2018
Yamanyoon
On July 22, 2018, the Saudi-led aggression launched raids on various Yemeni provinces, which were concentrated in the districts of Hodeidah and Saada. Speaking of Saada, it was subjected to artillery and rocket Bombardment, which resulted in killing and wounding civilians.
Here are the superior aggressive operations that were taken by the Saudi-led coalition:
Hodeidah:
A raid was carried out at the south of Kamran island by the Saudi-UAE warplanes.
non-stop raids and intensive monitoring of the coalition jets on the district of Tahita and Rif Zabid.
A series of raids by the US-Saudi Aggression targeted al-Tahita and Zabid districts.
4 raids on al-Elwee area, district of al-Lahiah.
A raid of the Saudi-American aggression on al-Drehmi and a continuous monitoring
of the air force of the aggression, where it also air landed weapons to support the mercenaries besieged by the Yemeni forces in the west coast.
Saada:
A US-Saudi airstrike on a police camp in the center of the city.
Rocket bombardment and Saudi artillery shelling targeted residential areas in Razih border district.
A raid of the US-Saudi Aggression on al-Neshour water project in al-Safra district
– Damage to property of citizens by artillery-rocket bombardment on residential areas in Munebah border district.
A woman injured by artillery-rocket fire on populated villages in Nunebah border district
– Saudi artillery and rocket shelling targeted residential areas in the bordering district of Baqem.
A woman was killed while another was wounded after a US-Saudi airstrike on a house in Ghafrah, district of al-Zaher.
Dhamar:
4 air raids by the coalition warplanes targeted the Technical Institute in Thee-Sahar area in Anas district.
 Ad Dali':
Saudi-UAE mercenaries targeted by artillery, areas and homes in the area of Maris in the village of Rumah in Qataba district, where a house of a citizen was damaged by the shelling, panicking civilians all over the village.