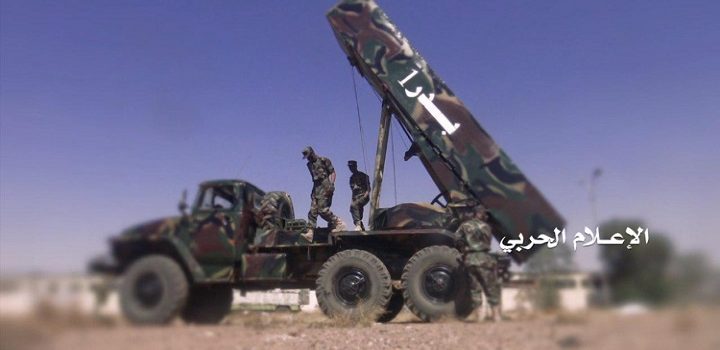 Short-Range Ballistic Missile Targets Saudi-UAE Mercenaries in al-Bayda
Yamanyoon
The Yemeni army forces have fired a domestically-designed short-range ballistic missile at a position of the US-Saudi-led coalition's paid fighters, loyal to fugitive former president Abd Rabbuh Mansur Hadi, in the country's central province of al-Bayda.
They, today, hit the paid fighters in al-Juraybat area of al-Bayda province.
It is noteworthy that the Air Force has earlier launched a raid on the paid fighters' gatherings at al-Juraybat post, destroying a number of military machinery.
The official spokesman of Ansarullah, Mohammed Abdulsalam, confirmed that the Yemeni army forces have qualitative and sophisticated weapons that reflect the nature of the Yemenis and will continue to be the historical pride and the safety valve for the homeland.
A civilian, on the other hand, lost his life and several others, including women and children, sustained injuries when a coalition fighter jet carried out an airstrike against residential buildings in the Riff al-Tahtia area, Hodeidah province.
Meanwhile, the coalition involved in the years-long aggression on Yemen alleged in a statement broadcast on Saudi Arabia's state-run al Ekhbariya television network that it had destroyed sites used by Yemeni Houthi (Ansarullah) movement.
The coalition claimed the "destruction of ballistic missile (launch) sites run by Yemeni fighters in Saada."
The coalition has been striking Yemen since March 2015 to "restore" power to Mansour Hadi, a close ally of Riyadh. The coalition has so far killed and wounded at least 600,000 Yemenis, including hundreds of women and children.
Despite the coalition's claims that it is bombing the positions of the Ansarullah fighters, part of the Yemeni army forces, the coalition's bombers are flattening residential areas and civilian infrastructures.
According to several reports, the campaign against Yemen has driven the impoverished country towards humanitarian disaster, as the coalition's deadly campaign prevented the patients from traveling abroad for treatment and blocked the entry of medicine into the war-torn country.
Yemen is the world's largest humanitarian crisis with more than 22 million people in need and is seeing a spike in needs, fuelled by ongoing conflict, a collapsing economy and diminished social services and livelihoods.
Several Western countries, the United States and Britain in particular, are also accused of being complicit in the ongoing campaign as they supply the coalition regime with advanced weapons and military equipment as well as logistical, intelligence and ground assistance.