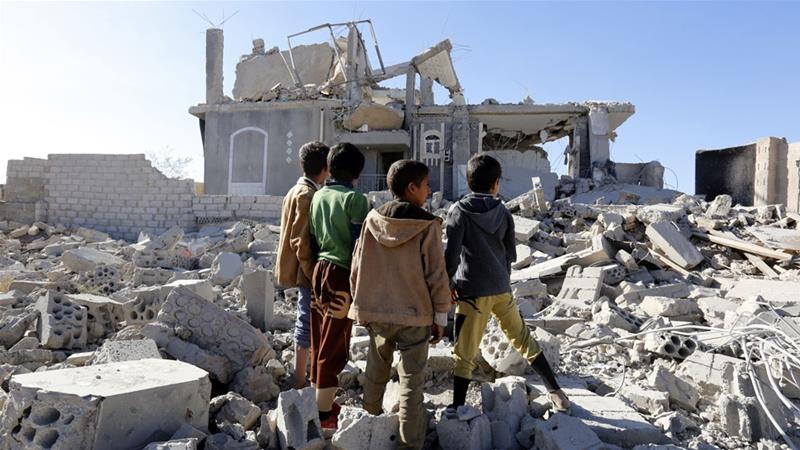 Saudi Coalition Latest Crimes in Yemen (July.29.2018)
Yamanyoon
The US-Saudi aggression on Sunday launched several air raids on a number of Yemeni governorates and regions, which left a number of killed and wounded; in addition, Saudi barrages of artillery and rocket shells bombarded a number of bordering districts.
In Saada province, artillery-fire attacks targeted residential areas of Shada, Razih and Munebah bordering districts, causing extensive damage to property.
Saudi warplanes also launched 6 airstrikes on residential areas on the district of Baqam, in conjunction, rocket and artillery fire bombarded the area.
In al-Hodeidah, the Saudi-led aggression launched several raids at the entrance of the Muntjaa al-Kateep in the district of al-Minaa, four raids on al-Arj in the district of Bajel, and more than 15 raids on the district of Durahmi.
In the same context, the mercenaries of the Saudi-UAE aggression kidnapped a group of women and took them to an unknown destination, in a step that emphasized the Daesh-like background and origins.
A civilian was also killed and others were injured, including women and children, after the Saudi-led aggression targeted houses in villages within the district of al-Tahita.
In Sana'a, the Saudi-American Air Force carried out two air raids on Yemeni army War College and Nahdeen mountains, two air raids on Camp Dabwa and Camp al-Sawaad at Sanhan district, where two air raids targeted al-Hanashat area in Nehm district.
The Saudi-led warplanes carried out three raids on the district of Nateh in al-Bayda and three raids on al-Tala site in Najran southern Saudi bordering province.