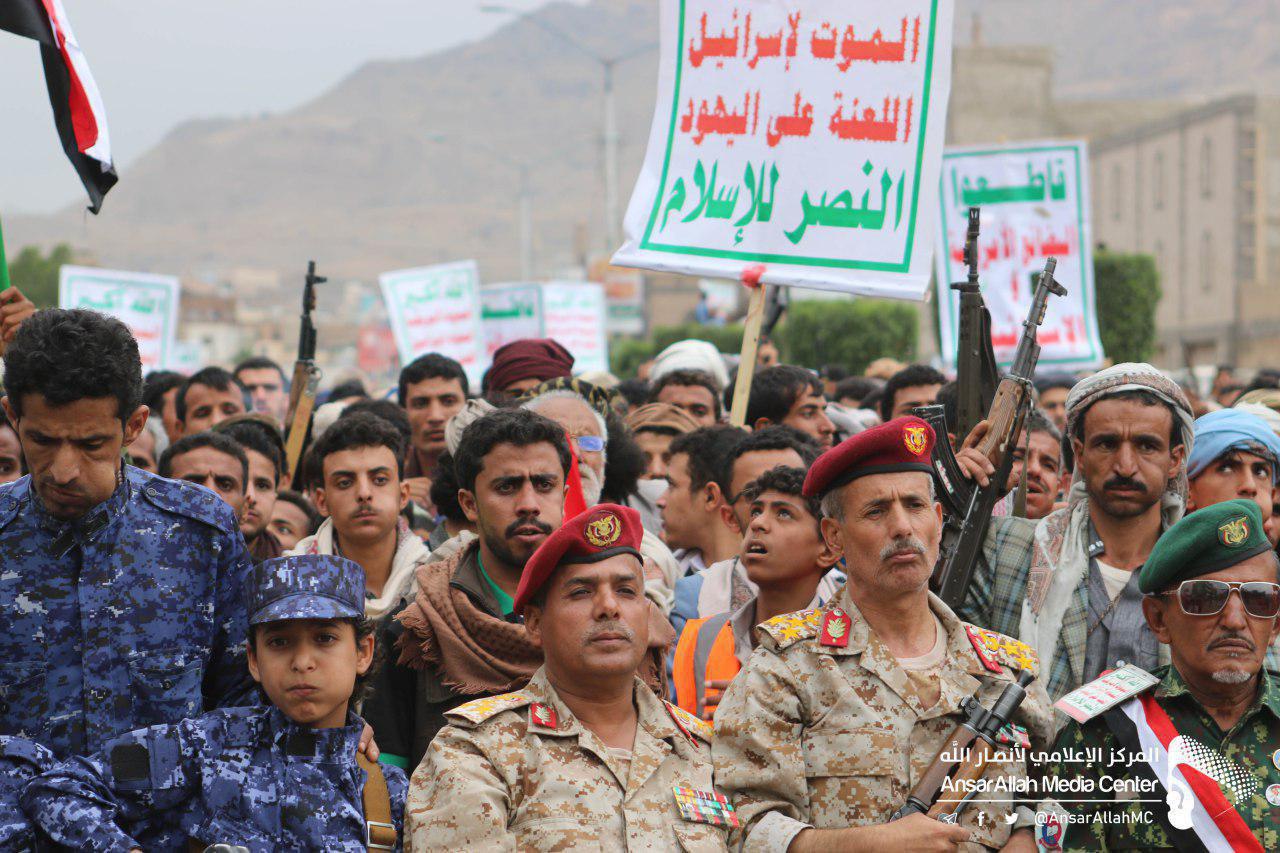 Capital Sana'a Witnesses a Massive Protest Against the Saudi-Led Aggression (Photo)
Yamanyoon
The capital of Sana'a on Friday witnessed a mass rally under the slogan "Our blood will protect out dignity" in which large crowds of Yemenis participated.
The masses gathered in Bab al-Yemen to participate in a protest to condemn the crimes of aggression, the last of which was in the western port city of Hodeidah, which left scores of killed and wounded civilians.
During the event, which was accompanied by angry chants towards the crimes committed by the Saudi American aggression and its mercenaries against the Yemeni people, the participants raised banners condemning the shameful crimes of aggression in Hodeidah, the abduction of women in the district of Tahita and the latest crime which targeted the main gate of the al-Thwra hospital, claiming the lives of dozens of civilians.
The head of the Supreme Revolutionary Committee, Mohamed Ali al-Houthi, made a speech in which he stressed that mercenaries cannot own the national honor and that those who come to Yemen on the back of a tank cannot be patriotic.
Al-Houthi also condemned the crimes of the aggressive coalition against civilians yesterday in the city of Hodeidah, stressing that it will not deter them from confronting the forces of aggression and defending the homeland.
In the speech of Sheikhs and people from Tihama, Sheikh Mohammed condemned the brutal crimes committed by the criminal aggression, especially the crime of abducting women in the Tahita, stressing that it exceeded all kind of evil, calling on the Yemeni tribes on going towards the fronts in order to keep Yemen safe.
Sheikh Shamsan Abu Nashtan pointed out in his speech that the abduction of women is a red line and reveals the kind of militias we are fighting, pointing out that the responsibility is among all the people and its to defend the homeland, stressing that those who did not defend their land will not defend his family.
Sheikh Abu Nashtan also stressed the loyalty to the Leader of the revolution, Sayyid Abdul-Malik Badreddin al-Houthi and stand by the side of the people of Tuhama against the mercenaries of Saudi coalition. He called for continuing the donation campaign to the air force to continue its qualitative operations in the strongholds of the Saudi-UAE coalition.