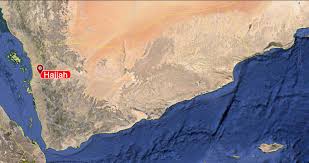 Killed and Wounded Civilians by Saudi Barge Bombardment on Yemen's Hajjah
Yamanyoon
A number of citizens were killed and wounded, on Saturday evening, as a result of Saudi coalition bombardment of the US-Saudi aggression against residential areas in the district of Abes, Hajjah province.
The Saudi-led aggression targeted homes and farms of citizens in the village of Umm al-Thab, district of Abes, which led to the fall of eight civilians between killed and wounded, an official source reported.
Eyewitnesses said that the families of the village of Umm al-Zab in Abas district were hit with a surprise attack at 7 pm on Saturday by a heavy rocket attack on houses in a village, which led to the loss of many lives and injuring many others, who were then transferred to various hospitals in the city of Abs.
Local medical workers reported that there are still missing victims who have not been found yet.
The residents condemned the US-Saudi aggression heinous crimes against oppressed Yemeni children and women.
This crime comes in the context of the daily crimes committed by the aggression by its air and sea strikes against civilians in the West Coast amid international silence about these crimes against civilians.