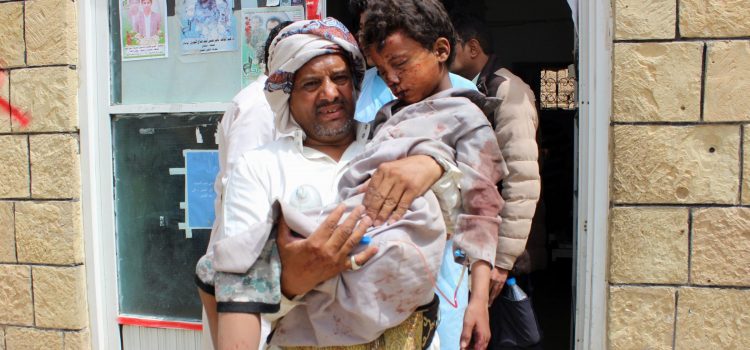 Yemen's School Children are Brutally Slaughtered
Yamanyoon
Up 

to the moment of writing this article 51, children were killed in school bus attack and 79 have been injured according to Yemeni Ministry of Health Spokesman; Dr Yusuf al-Hathery, after an aggressive Saudi-UAE coalition air raid had hit the bus in Saada.
It is difficult to treat such a big number of injured in Sanaa as its health centers are ravaged and thus the death toll is likely to rise. This worsens the situation due to the imposed blockade there is no treatment, medicine and specialised medics.
The head of the International Committee of the Red Cross (ICRC) delegation in Yemen, Johannes Bruwer said that its medical team at the ICRC-supported hospital had received the children, all under 15 years old.
Geert Cappelaere, the United Nations agency for children's Regional Director in the Middle East and North Africa (UNICEF) condemned the attack, expressing, "No excuses anymore!" He has also asked, "Does the world really need more innocent children's lives to stop the cruel war on children in Yemen?"
The bus was carrying a group of students attending summer classes learning the Holy Quran. Audaciously, the Saudi-UAE coalition, as always, has claimed that it launched the attacks on "missile launchers."
Legally speaking, the air strikes violated the basic principles of international and humanitarian laws.
Militarily speaking, it proves that the hostile coalition, which monitors with the help of the U.S. surveillance intelligence, pays no respect for the rights of children in the conflict zones, or that its artillery shelling is being launched indiscriminately.
Religiously speaking, the coalition, which claims to be a "Muslim", pays no respect for both the rights of children and the illegitimacy of fighting in this holy period of the lunar calendar.
Indeed, Yemen currently faces the world's worst humanitarian crisis; it is on the verge of famine and threatened by the cholera epidemic, with more than 22.2 million civilians in need of assistance.
The Western governments, particularly the United States, are complicit of the brutal coalition in this heinous crime. Indeed, the U.S. provides unbelievable intelligence, military advice, and logistical support to the Saudi-led military intervention in Yemen.
It is not the first time that the coalition targets schools, funerals, weddings, ambulances, hospitals and so on. According to local sources, in the market's vicinity where the attack took place, there were neither military installation nor Houthi fighters.
These atrocities have sadly become too common amid the lack of accountability and the green light and privileges granted by Trump to the Saudis.
At least 10,000 people have been killed, according to the UN, since the onset of the imposed war. In June, the coalition's jets carried out 258 air raids, nearly one-third of which targeted populated residential areas and civil facilities, including water and electricity sites, healthcare facilities and IDP camps in impoverished Yemen.
This post originally ran on US Journal