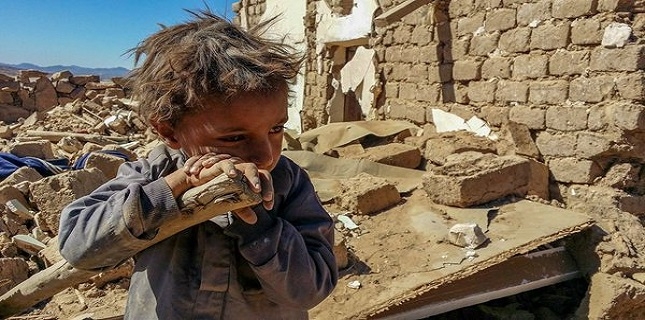 Saudi Horrific Crimes in Yemen, a Daily Update (August.13.2018)
Yamanyoon
The Saudi-led aggression has carried out various air raids on many Yemeni provinces, leaving killed and wounded in Saada, Amran and Hodeidah; in addition to damage to civilians' property.
In Saada, two citizens were killed and four wounded, including children, in a Saudi-American air raid on the border district of Baqem on Monday.
A civilian was also killed and shops were damaged as a result of a Saudi rocket attack Razih bordering district.
Villages located in the districts of Razih, Shada and Munebah were bombarded by Saudi Saudi artillery and rocket fire.
In Amran governorate, two citizens were killed and five others were injured after 3 = conducted airstrikes on al-Muzahat area in the district of Harf Sufyan.
In the coastal western city Hodeidah, a local source from there reported the death of a citizen and the injury of six others after series of raids that targeted a farm of a citizen in the district of Tuhita.
Moreover, the Saudi-led aggression launched two air raids eastern the district of Hays in the west coast.
In Taiz governorate, a child was critically wounded after being shot by a sniper from the mercenaries side in al-Salou district.
In the governorate of Sana'a, the joint air force of the coalition launched three raids on al-Mdaarg area in the district of Nehm.