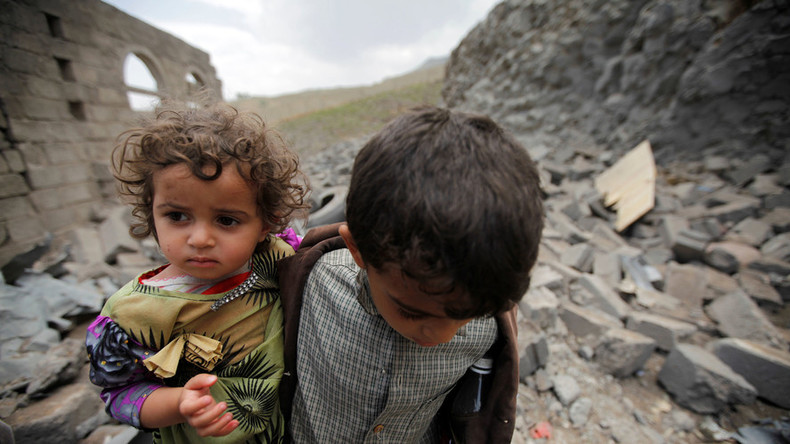 The Daily Update of Saudi Crimes on Yemen (August.18.2018)
Yamanyoon
The Saudi-American Coalition continued on Saturday on launching air raids and bombardments on a number of Yemeni provinces, leaving killed and wounded in the process, in addition to damaging public and private property.
In Saada, one civilian was killed and three others were seriously injured by rocket and artillery shells, which targeted their homes in the border district of Shada. Additionally, a child was injured by a bomb explosion that was launched at residential areas within the border directorate of Razih.
The Saudi-led aggression launched six raids on different areas of al-Zaher directorate and a raid on the main road that connects the two directorates of Razih and Shada. Also, three raids were carried out on the houses of citizens in Baqem district. In addition, rocket and artillery shelling targeted densely populated villages of Munebah and Shada, causing damage to civilians' houses and property.
In Sana'a governorate, Saudi coalition launched 11 raids on the village of Gharza, Hamdan district, and launched 13 raids on Camp al-Sama, Farijah and a raid on Beit Shamlan in the Directorate of Arhab, while it carried out two raids on the area Almjawhah in the Directorate of Nehm.
In Amran province, the Saudi coalition aircraft launched four raids east of Jabal al-Musallouq in Harf Sufyan district.
In al-Bayda governorate, Saudi jets launched four raids in an attempt to support the advance of its mercenaries on the western front.
In the southern Saudi province of Asir, Saudi warplanes conducted two airstrikes on al-Rabboah site.