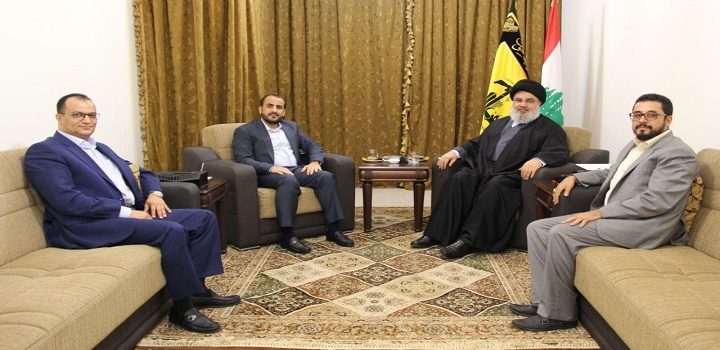 Ansar Allah delegation visits Secretary General of Hezbollah
Yamanyoon
A delegation of Ansar Allah, headed by Spokesman Mohammed Abdulsalam, visited Saturday Sayyed Hassan Nasrallah, the Secretary General of Hezbollah, in the framework of ongoing efforts to present the suffering of Yemeni people facing a brutal war and an unjust siege.
During the meeting, they discussed the political and humanitarian situation in Yemen and reviewed regional developments and international changes.
The spokesman of Ansar Allah Abdulsalam conveyed the political leadership's greetings and the Yemeni people's feelings and pride toward Sayyed Nasrallah's courageous and principled positions dealing with Yemen as it faces the brutal Saudi-led war.
Meanwhile, the delegation congratulated Sayyed Nasrallah and Hezbollah on the 12th anniversary of the victory of the Islamic Resistance under his exemplary leadership in the face of the Israeli war in 2006.
The meeting was also attended by members of the Political Bureau of Ansar Allah; Abdulmalik Al Ajri and Ibrahim Al Dailami.