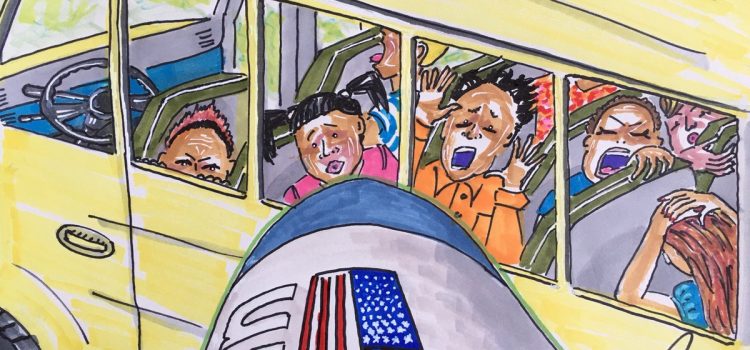 American actor "Jim Kerry" condemned US-Saudi airstrikes on a school bus in Sa'ada
Yamanyoon
United States Actor and artist Jim Carrey denounced Washington's support for Riyadh in its deadly campaign against Yemen, stating that Yemeni kids' blood is on American hands, as munitions experts have confirmed that the bomb used by the Saudi-led coalition in the attack on a school bus that killed dozens of children had been supplied by the US.
"40 innocent children killed on a bus in Yemen. Our ally. Our missile. Our crime," Carrey wrote on its confirmed twitter account.
The post was accompanied by a cartoon, depicting a bus full of terrified children as a missile marked with the American flag and "USA" hurtles toward them.
As soon as a bus carrying school children entered a busy market in the Sa'ada town of Zahyn last Thursday, Saudi fighters targeted it. At least 51 civilians have lost their lives and 80 others sustained injuries, most of whom were students, sparking outrage from international human rights groups and UN officials.
The International Committee of the Red Cross (ICRC) announced that 40 children were among 51 civilians recently killed during a Saudi airstrike on a school bus in Yemen's Sa'ada province. 56 children were also among the 79 people wounded in Riyadh-led air raid on Sa'ada Province.
As the Saudi-led coalition has claimed that its airstrike constituted a "legitimate action", and accused Ansarullah of using children as human shields, the United Nations Security Council announced that a credible and transparent probe is needed into the air raid on the bus.
The UN announced that there is no justification for Saudi Arabia's latest massacre in Yemen which claimed the lives of scores of civilians, most of whom were children.
"What we are seeing today are the victims of the airstrike. The terrible human cost of the airstrike and of the war. The entire world condemns this," UN humanitarian coordinator in Yemen Lise Grande said on Tuesday during a trip to the war-torn country.
Grande added that the UN Secretary-General has called for an "immediate transparent, comprehensive, independent investigation", into the deadly attack on civilians.
Meanwhile, UNICEF's resident representative in Yemen, Meritxell Relano, has called for an end to Saudi Arabia's war on Yemen and continued massacring of children.
"In the recent attack in Sa'ada, I have visited at least 13 children that have injuries and I hope that they are good to go very soon and back to play, and play football, and back to their normal lives because this has been a very shocking attacks, terrifying, which will leave them not only physical injuries but also psychological injuries," Relano stated.
Yemeni Human Rights Minister Alia al-Shaabi strongly condemned the brutal assault of Riyadh and its allies on a school children's bus on Thursday, stating that the Saudi-led coalition sees Yemeni women and children as strategic targets.
"The Saudi aggressors have made the Yemeni people, children, old men and women as military targets," she said, adding that "we welcome the condemnations of international organizations and the United Nations for the crime and call for the formation of an impartial and independent international commission of inquiry".
Al-Shaabi revealed that the missile used by the coalition to hit the bus carrying Yemeni kids was exactly the same type which killed some 155 people at a funeral ceremony in Yemen's capital, Sana'a, in 2016, and was made in the United States.
At least 155 people were killed and more than 500 wounded in several airstrikes on a funeral reception in Sana'a in early October 2016, according to health officials. The death toll was one of the largest in any single incident since Saudi Arabia began military operations against against its impoverished Southern neighbor in March 2015.
Al-Shaabi's point of view on the issue echoes an Ansarullah official's remarks who said the bombs used by the Riyadh-led coalition on Thursday attack was made in the US and was MK-82 which had earlier been used to pound a wedding ceremony in Hajjah province and a prison in al-Zaidiyeh.
The United Nations Children's Fund (UNICEF) had described the war in Yemen as a "war on children", given the extensive damage that the conflict has caused to children in Yemen.
40 innocent children killed on a bus in Yemen.
Our ally.
Our missile.
Our crime. pic.twitter.com/yQ7FULulj2

— Jim Carrey (@JimCarrey) August 17, 2018