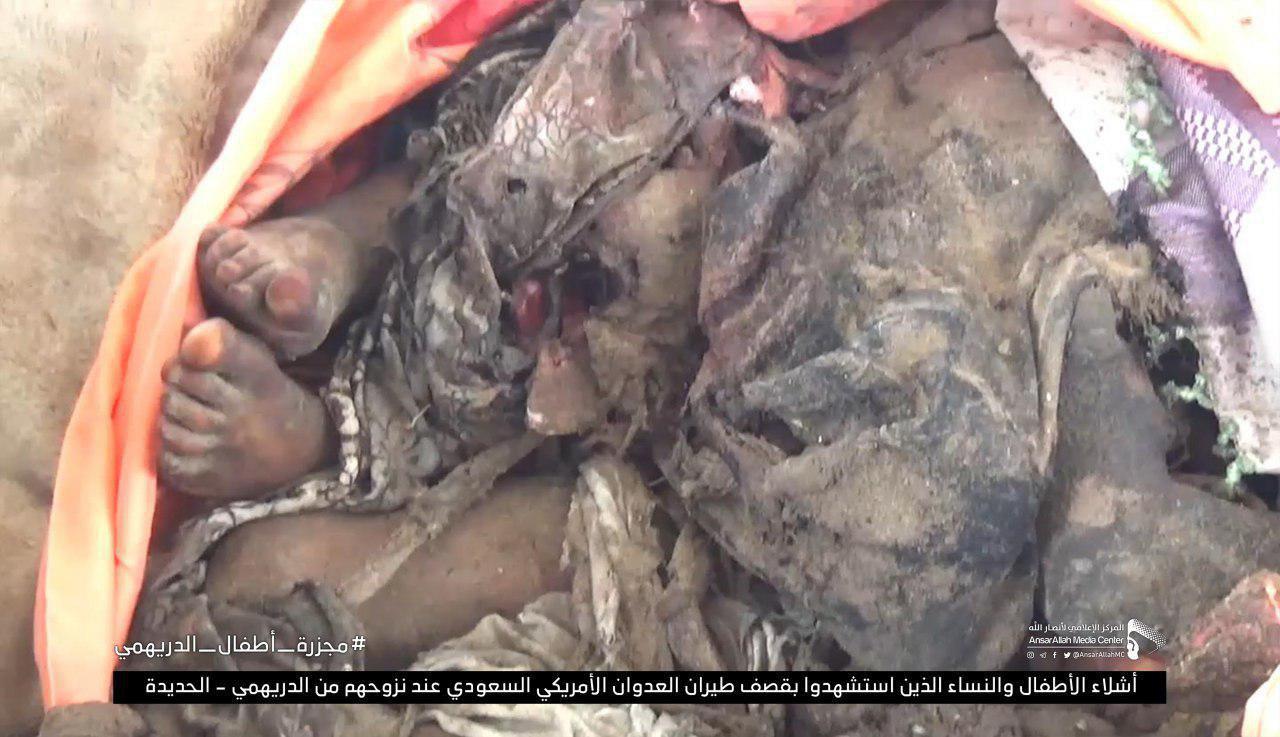 Report: Saudi Coalition Targets Yemeni Children Again… This Time in Yemen's Al-Hodeidah (Picture+Video) (Graphic)
Yamanyoon
The US-backed Saudi-led coalition has committed another genocide against Yemenis, most of which were children, on Thursday, where it targeted a number of displaced families who were leaving their homes in al-Dreihmi district, Hodeidah governorate.
Local sources in Hodeidah said that the Saudi aggression has perpetrated a fresh massacre against 22 children and four women, who were escaping their houses in the area of Alko'ai within the Directorate of al-Drehami.
Colonel Omar al-Hashibi, director of security of the Directorate of Durahmi, said in a telephone call with al-Masirah Arabic channel that the air aggression targeted a group of displaced families of women and children in a car in the Directorate of Durahmi.
Col. Omar pointed out that the number of families who were on the targeted car was 4 families, mostly women and children.
He added that all displaced families who were on that vehicle were killed, stressing that ambulance couldn't get to the victims due to intense coalition warplanes flying on the targeted area to recover the dead bodies of the victims from the burning car.
al-Hashibri pointed out that yesterday, the US-Saudi aggression targeted the same area with air raids and artillery shells, leaving behind a number of 4 killed, including children.
He stated that the aggressive coalition has been intensifying its attacks on residential areas in the city of al-Durahmi, preventing the reach of the wounded to help them, where the wounded are left until they face death.
Minister of Health Dr. Taha al-Mutawakil called on the civilians of Hodeidah donating blood at various centers and hospitals in the governorate.
He added that there is no explanation for the escalation of the US-Saudi crimes against the children of Yemen; thus, revealing the brutality of this enemy.
The spokesman of the Ministry of Health said that 31 civilians, most of them children were killed after bloody Saudi aerial raids on a family's house in the area of Alko'ai, then other airstrikes on a car of displaced in al-Drehami.
The Director of the Health Bureau in Hodeidah said that the International Red Cross staff had not been able to enter the crime scene in al-Durahmi.
The governor of Hodeidah, Mohammad Qahim, said that the mobilization of the people, especially in the West Coast frot, is the only way for stopping the crimes, pointing out that the silence of the world on such crimes that are being done by the Saudi-led coalition just makes them more persistence of committing more and more crimes.
Pictures of the Saudi massacre against women and children of al-Hodeidah governorate: