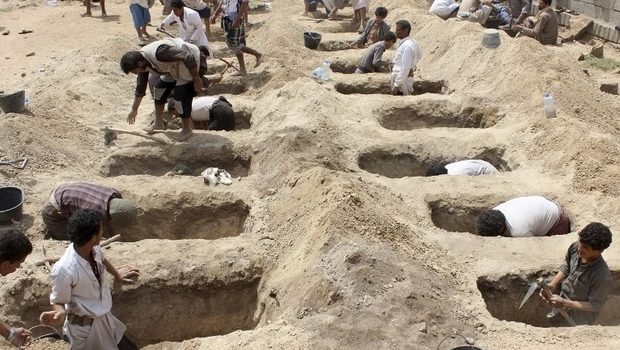 Saudi-Led Coalition Finally Recognizes Its War Crime Against a Yemeni School Bus
Yamanyoon
The Saudi-led coalition, backed by the US, condemned on Saturday the massacre of Dahyan students in Saada province, which killed more than 50 civilians, including 41 children who were on board the bus.
"The Joint Forces Command expresses its regret for these mistakes and extends its condolences to the families of the victims and their solidarity with them and wishes the injured speedy recovery," the coalition statement said on a Saudi news agency.
The Saudi-led coalition's confession caused wide ridicule after what he called as a "mistake" in air raids on Saada Province, which led to the death of dozens, the majority of which are children. This late confession came after a previous allegation stating that the Saudi American raid did not hit a school bus but rather a group of experts.
In fact, the Saudi-led coalition recognized the horrific massacre of Dahyan after the UN Panel of Experts announced the results of its investigations into the abuses and crimes committed by the Saudi-led coalition in Yemen for nearly four years.
The report of the Panel of Experts confirmed that the air raids of the coalition targeted civilian boats belonging to Yemeni fishermen off the shores of Hodeidah, killing dozens and leaving many others as disappeared, in addition to killing 32 Somali refugees in a raid waged by the coalition.
The report pointed out that Saudi forces routinely detain Yemeni fishermen, where 148 fishermen were arrested by Coalition Forces and transferred to Saudi Arabian detention facilities, isolating them from the outside world.
The report also said that the Saudi-led coalition imposed strict maritime and air restrictions that had a devastating effect on the civilian population and on commercial shipping, causing an increase in the cost of delivering these materials to the markets and effectively closing Sana'a International Airport to civil aviation flights, preventing Yemenis from accessing health care abroad.
The expert report reviewed 11 incidents in which air raids targeted popular markets, one of which was a terrible incident that killed 107 civilians, including 25 children, during coalition raids that targeted "Khamees Market".
According to the report, a number of air strikes damaged MSF facilities, the latest of which was an air raid that hit a new cholera treatment center in the district of Abes in the province of Hajjah. A number of civilian gatherings were also targeted at funerals and weddings in Sana'a during the funeral of the father of a senior official.