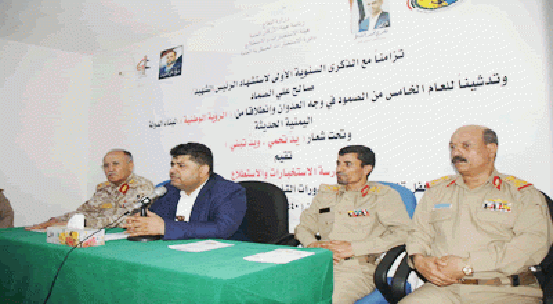 Al-Houthi: Victories Are Result of Preparation, Quality Training
Yamanyoon
Member of the Supreme Political Council, Mohammed Ali Al-Houthi, stressed the importance of activating the aspects of military training and rehabilitation in the specialized aspects, as a cornerstone for enhancing the combat readiness and building the professional fighter.
In a graduation ceremony of a military and intelligence courses, from the Military Intelligence and reconnaissance school, held on Saturday in Sanaa, Al-Houthi pointed out that the field victories achieved on all fronts are the result of preparation and training that correspond to the reality of the field.
He pointed out that the graduation of a number of military courses in conjunction with the first anniversary of the martyrdom of President Saleh Al-Sammad is a practical translation of the national vision to build the modern Yemeni state. It represents a message to the aggression forces that the Yemeni people and the army is stronger and harder to achieve victory at all levels.
He noted the efforts exerted by the leadership of the Ministry of Defense and the Presidency of the General Staff in the fields of training, rehabilitation and qualitative preparation of fighters. It was according to the needs of various fronts, which did not stop for a moment despite the aggression.
He urged graduates to use their military skills and experience in practice to all aspects of military and combat. At the end of the ceremony, which was attended by a number of department heads and military leaders, certificates were distributed to graduates.