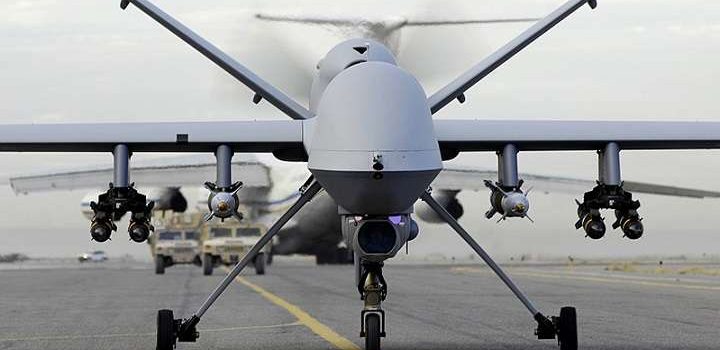 Yemen's Defenses Shoot Down (US)MQ-9 Combat Drone in Dhamar Province
Yamanyoon
The spokesman of the Yemeni Armed Forces Brigadier Yahya Saree announced the air defenses had downed a US-made MQ9 aircraft with a suitable missile in the atmosphere of Dhamar province.
Brigadier-General Saree said the missile that shot down the US plane was developed locally and will be unveiled soon at a news conference.
Moreover, saree went on warning the Saudi-led aggression that they need to think a thousand times before entering the Yemeni airspace, stressing that "the sky of Yemen is no longer as permissible as before and the coming days will witness great surprises."
"We have the ability, by the support of Allah, to neutralize a large number of hostile aircraft from entering Yemeni airspace," he said.
The MQ9, which was shot down by the air defenses on Tuesday evening in Dhamar province, is one of the largest and most modern American fighter aircraft equipped with high technology.
The following are some of the specifications and characteristics of the aircraft:
It is Called MQ9 Reaper (MQ9 Reaper)

Produced by the American company General Atomics.

Designed on the basis of the MQ-1 Predator but much larger than that for use as a missile launcher in combat.

Used by the US and British Air Force to hit sites in Afghanistan.

America launched the first squadron of them at the Craig Air Force Base in Nevada in 2006.

Wingspan Length: 20.12 meters

Length of the aircraft: 10.97 meters

Height of the aircraft: 3.56 meters

Empty weight: 2223 kg

Weight after loading with rockets: 4760 kg

Engine type: 1 HDD Honeywell TPE-331-10T with a capacity of 900 hp (670 kW).

Maximum speed: 482 km / h.

Range up to 3000 km.

The cost of each aircraft 11.5 million US dollars.

The cost of the tactical unit (aircraft with control room, missiles, and other devices): 30 million US dollars.

Able to carry guided missiles and bombs weighing 1.7 tons.

Rockets and bombs that it can carry:4 missiles AGM-114 "Hellfire"

Can have an additional 2 bombs, type "82", with a laser-guided GPS vision

It is Tested with missiles AIM-92 Stinger.