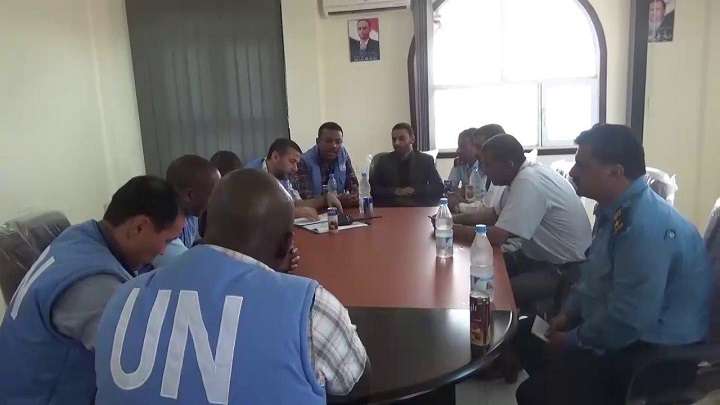 Meeting of the Un Team in Hodeidah with the Office of the Commander of the Fifth Military Region
Yamanyoon
A meeting was held in al-Hoeidah governorate that included a UN team and the Colonel Yasser al-Mughrabi, director of the office of the commander of the Fifth Military Region, to discuss the progress of work in Hodeidah port and the difficulties facing the performance of its activities.
At the meeting, the al-Mughrabi colonel stressed the commitment of the national side to implement all the points agreed in the Stockholm Agreement and in return the other party disavows.
He pointed out the total field violations committed by the mercenaries of aggression since the truce began has resulted in more than 1115 killed and wounded from the people of Hodeidah as a result of indiscriminate artillery shelling on the houses and neighborhoods of citizens, pointing out the human suffering of the people within the besieged city of al-Durayhimi by the mercenaries of aggression in front of the world.
Moreover, the al-Mughrabi held the United Nations responsible for what is happening to the children of Hodeidah from daily crimes, considering its silence a green light for the forces of aggression to continue to target civilians.