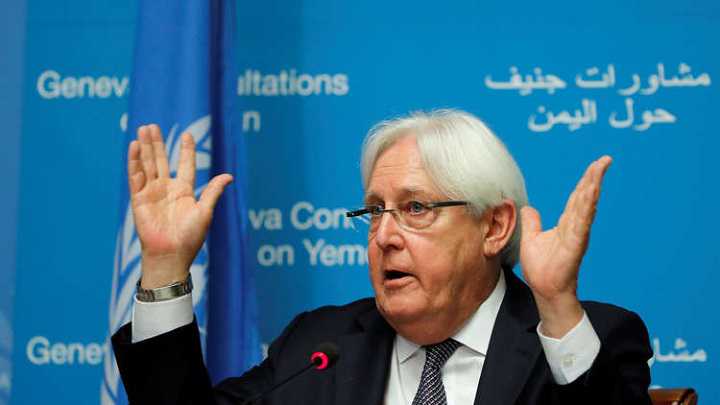 In Joint Statement, Griffiths, Grande: Bombing on Prisoners Is Tragedy
Yamanyoon
The United Nations Secretary-General's Envoy to Yemen, Martin Griffiths has condemned the Saudi-led coalition airstrikes on prisoners of war in Dhamar prison.
Griffiths, in a joint statement with Lise Grande, Humanitarian Coordinator for Yemen, called for an investigation into the bombing on prisoners, stressing that justice should be achieved.
"Today's bombing is a tragedy, the human cost of this war is unbearable. We need it to stop. Yemenis deserve a peaceful future. Today's tragedy reminds us that Yemen cannot wait," the statement said.
"The only way to end the killing and the misery in Yemen is to end the conflict," Griffiths said.
In a move that raised eyebrows by observers, Griffith ignored that the coalition against Yemen was the one who committed the crime, he said "I hope the coalition will launch an inquiry into this incident. Accountability needs to prevail.".
For her part, Grandi expressed shock at a large number of victims and said that the airstrikes forced relief organizations to transfer medical supplies intended to deal with the outbreak of cholera to hospitals Dhamar (130 km south of Sanaa).
The head of the Red Cross delegation in Yemen, Franz Rauchen Stein, said the mission estimated that more than 100 people had been killed in the bombing of the three-prison prison.
While the Saudi-UAE alliance talked about targeting a drones and missiles warehouse, Rauchen Stein said the target was a detention center regularly visited by Red Cross teams, noting that 40 prisoners were being treated in hospitals.
He said it was disconcerting that the shelling targeted a prison and that striking a similar building was shocking and sad, adding that the prisoners were protected by international law.