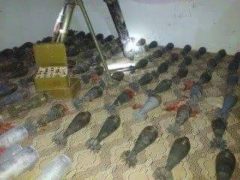 Takfiri Cell in Possession of a Large Quantity of Firearms Arrested
Sana'a / October 14 / Yamanyoon
The security agencies and popular committees arrested, today Friday, a criminal takfiri cell subsidiary to the Saudi American aggression in Hamdan region, Sana'a province. The cell was in possession of a large quantity of weapons and missiles.
After monitoring and a follow-up process, the security agencies and Yemeni popular committees successfully arrested the takfiri cell in Hamdan region and detected the large amount of weapons and various missiles, local source confirms.
Source praised the efforts of the security agencies and popular committees as well as the citizens collaborating in arresting the criminal cell, pointing out that investigations is still ongoing with the cell members to find out what authorities stands behind the cell.
The security agencies will spare no effort in carrying out its tasks and security duties in maintaining security and stability and the protection of public and private property, source adds.