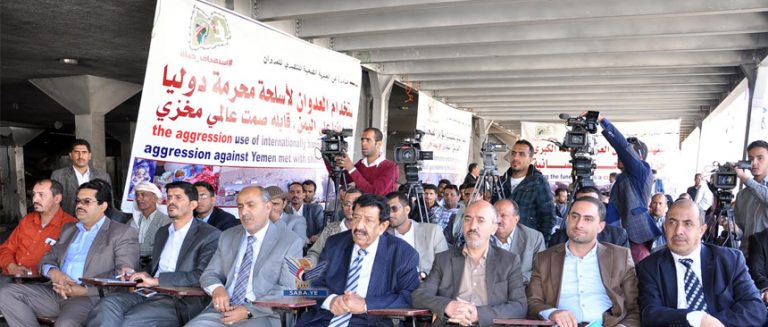 Ministry of Health: 8 Thousand Killed and 19,500 Wounded by Saudi Aggression
Sana'a / October 17 / Yamanyoon
The Ministry of Public Health and Population said that the number of victims of the Saudi American aggression on Yemen that were transferred to hospitals and health facilities has reached 8000 killed and 19,500 wounded, making a total of 27 thousand dead and wounded.
The ministry stated today in a news conference held in Al Kobra hall, Sana'a, that the victims of Al Kobra hall massacre are included in the 27 thousand victims. The Saudi American aggression committed a massacre in Al Kobra hall by killing 136 and injuring 615, and the number has a high chance of  increasing because of the critical conditions in hospitals.
The ministry reviewed at the conference, which was organized in collaboration with the health front confronting the aggression, the size of damages caused by the aggression on the 216 health facilities which were completely or partially destroyed. In addition, about 199 health facilities stopped working due to the aggression.
The acting Minister of Public Health, Dr Ghazi Ismail, noted that the aggression has targeted all of the elements of life in Yemen, including social events such as weddings and funeral processions deliberately and intentionally causing the severe suffering of Yemeni people.