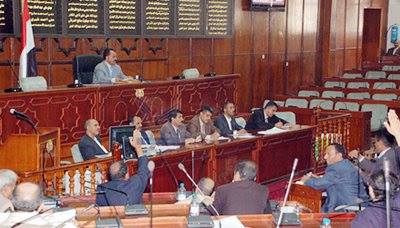 House of Representatives: International Community Must Take Responsibility Towards the Genocide in Yemen
Sana'a | October 19 | Yamanyoon
The House of Representatives discussed at its meeting on Wednesday morning, led by Speaker Yahya Ali Al Raei, role of the envoy of the United Nations to Yemen.
The Council noted that the meeting of the envoy of the Secretary General with the Foreign Minister of the United States and Foreign Minister of the British United Kingdom did not bring anything new. Instead of making a decision to stop the war and lift the siege on the people of Yemen, the council was surprised by their agreement on a 3 day truce, expressing its sorrow towards the failure of taking a decision to stop the war as it was completely ready for the commitment of this truce.
The council demanded that the Security Council and International Community take full responsibility towards the suffering of Yemeni people from genocides, starvation and an imposed siege. It must monitor any violation during this truce and declare a resolution of completely ceasing the war and go back to the table of dialogue between the parties concerned.