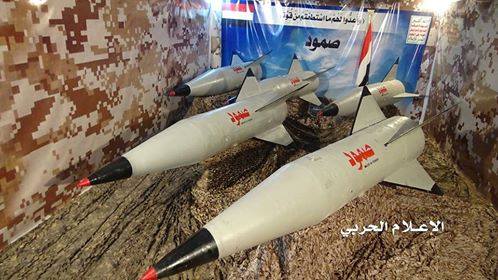 Sumod Ballistic Missile Hits Saudi Sabreen Camp in Dhala
Dhala | October 26 | Yamanyoon:
The missile force of the Yemeni army and popular committees launched today Wednesday a ballistic missiles of the type "Sumod" targeting Saudi camp of Sabreen located in Mariss region in Dhala province, southern Yemen.
Sumod is a locally made missile, and it a ground-to-ground missile, tactical, short-term in which it ranges up to 38 kilometers. Sumod is also equipped with a simple and mobile base and can be carried on a vehicle.
It's length is about 4 meters and its diameter is 55.5 cm full weighing up to a ton, and it carries a warhead weighing 300 kg with a feature of exploding into ten thousand fragments which increases its impact and effectiveness on groupings of Saudi mercenaries along with their military vehicles.
Sumod missile has joined the group of locally made missiles which have been manufactured by the Military Industry and Development department to confront the forces of the Saudi aggression and targeting its sites as well as mercenary groupings.
This functions as a response of the war crimes perpetrated by the US-backed Saudi coalition since it waged its war on Yemen since March 26 of 2015.